STS Aviation Group Makes the 2014 Inc. 5000 List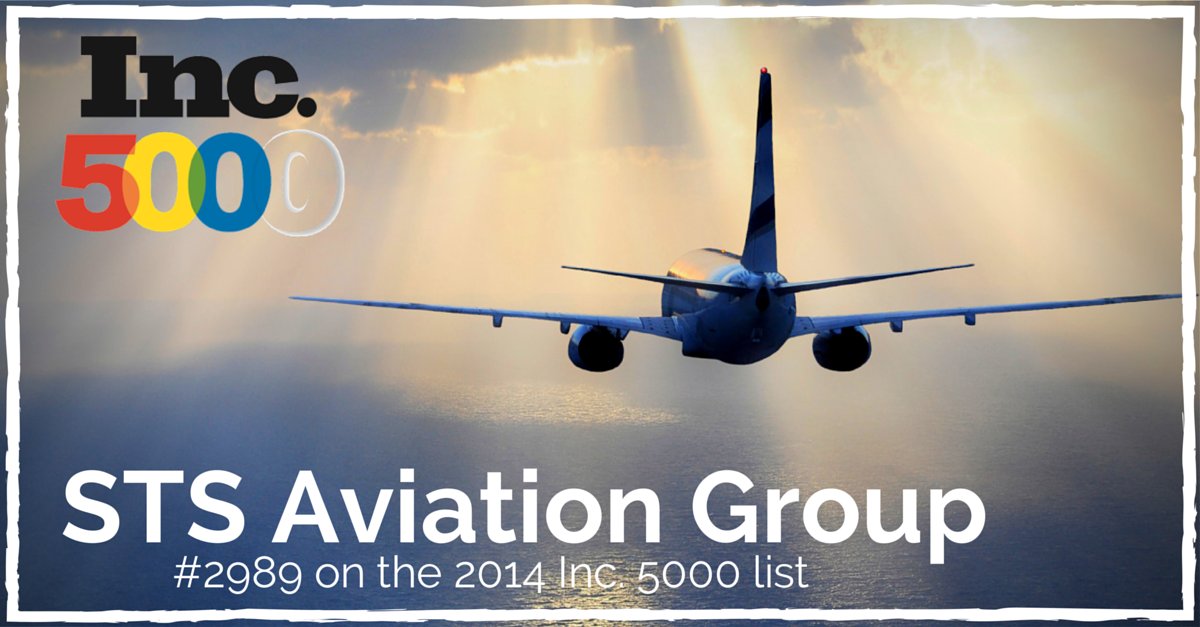 J
ensen Beach, September 9th, 2014 — STS Aviation Group is proud to announce that it has landed the 2,898th spot on the Inc. 5000 list recognizing the fastest growing companies in the United States.
In the past three years, STS has added more than 280 new corporate jobs and experienced a 126% growth rate.
In 2013, annual revenues topped the $165 million mark with projections expected to exceed that total in 2014.
"The growth we've experienced these past few years has been incredible and stands as a true testament to the hard work and dedication our employees, managers and executive teams put forth day in and day out," says Mark Smith, President of STS Aviation Group.
With headquarters in Jensen Beach and Palm City, Florida, STS boast a strong global foothold in the aerospace industry with numerous sister locations spread throughout North America, South America, Europe, Singapore and Asia.
"We've come a long way in the past three years, and I couldn't be more proud of the company we've built and the impeccable global services we offer," communicates PJ Anson, CEO of STS Aviation Group. "The future looks bright for STS, and I'm excited about what lies ahead."
For more information about STS Aviation Group and what makes it the company with "Solutions to Keep You Flying," visit https://www.stsaviationgroup.com/ or call 1-800-800-2400.
About STS Aviation Group:
STS Aviation Group is a diversified company that specializes in support services for the aerospace industry through its four divisions, STS AeroStaff Services, STS Engineering Solutions, STS Line Maintenance and STS Component Solutions. From staffing your team so it can get the project done right and at an affordable price, to providing certified aircraft and engine components so you can get off the ground and back in the sky, STS continues to be a one-stop servicing center for all of your company's aviation staffing, engineering, line maintenance and component related needs. To learn more about what makes us the company with "Solutions to Keep You Flying," visit www.stsaviationgroup.com or give us a call at 1-800-800-2400.
For more information, please contact:
Bryan Shaw
Group Marketing Manager
1-800-800-2400 ext. 8521
bryan.shaw@stsaviationgroup.com