STS Aviation Group's Quarterly Newsletter (Q2 — 2015)
Many of you are familiar with our company and its services / products, but what you may not know is who we are as people and what makes us tick. This quarter's newsletter is dedicated to taking you inside the minds of our executive team members and managers with the goal of answering one question… What excites STS employees about coming into work every day? When all things are said and done, you (our loyal readers) will unearth the unfettered passion that continues to fly STS Aviation Group forward. We hope you enjoy the following articles and thank you in advance for taking the time to read them.
---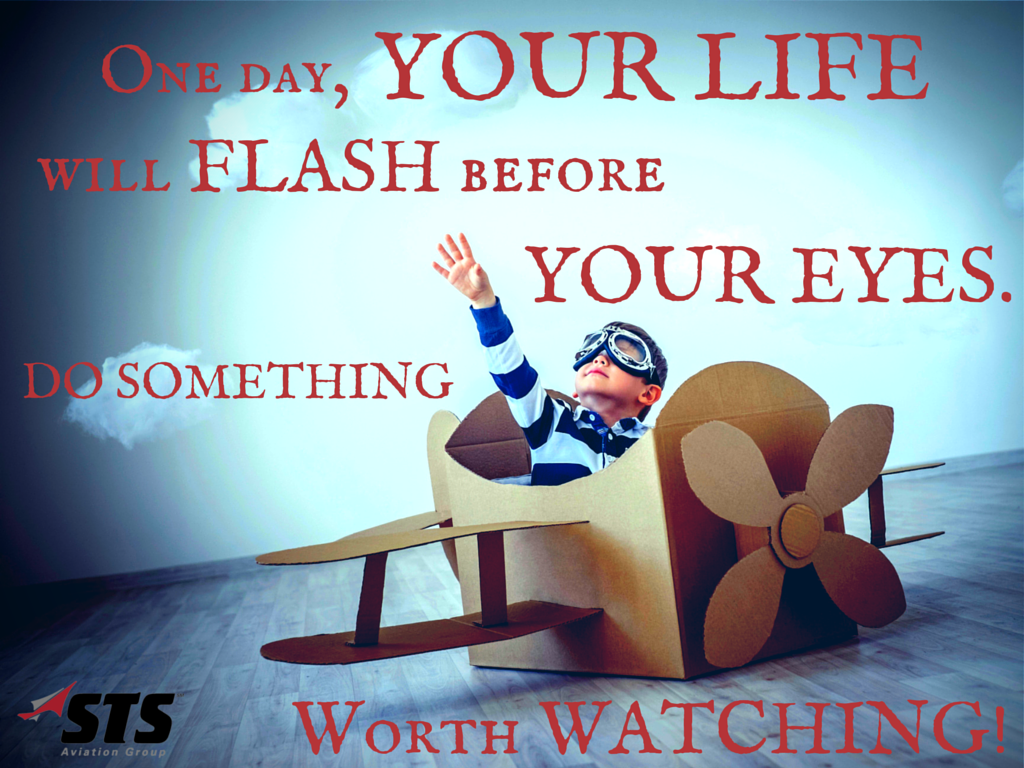 Employee Happiness Propels STS Aviation Group into the Future
By P.J. Anson — CEO, STS Aviation Group
I routinely tell my staff, "If you're not happy and excited to go into work most days, you owe it to yourself to make a change." I believe this to be true for every level of employee; from those in leadership roles to newly-hired interns.
There is no reason that a person working at the lowest levels of an organization should be more or less happy than those working at the highest. In other words, I don't feel that one should spend a significant portion of their professional lives in a position that does not make them happy. This is not only something I wholeheartedly believe in, it is something I preach to each and every employee at STS Aviation Group.
The change I referenced in the first paragraph does not mean one must quit their job in an effort to find professional happiness / satisfaction. It is possible, in my opinion, to affect change and find happiness by simply altering the way one approaches their current role. For example, by having open and honest discussions with management, altering daily responsibilities and even moving to a different department, one can change their professional prospective in a positive way.
Time and time again it has been proven that happy employees miss fewer days, work more hours and have higher productivity levels than unhappy employees. Knowing this, there's no room left for doubt that employee happiness translates directly to the underlining success of a company.
The old guard (and I am on the fringe of that group) believes in the concept of driving employees to work hard and put in long hours knowing that most will oblige because they're being provided compensation. Members of that guard also feel that employees do not need to be happy inside the workplace; they just need to show up and do their job.
To change that mindset is difficult because it's an idea rooted in much of the old guard's upbringing. It is what their parents and grandparents grew up with. It is what they were taught and told to appreciate. It's also hard to convince the very same group of people that putting a ping-pong table in the break room or providing workplace daycare is going to ultimately make the company more successful. To them, they just don't see how these things help employee productivity and promote business growth. Are they wrong in thinking this way? The quick answer is no, they are not wrong. They might, however, be a little shortsighted.
There is no doubt that understanding employee behavior is a critical factor to business success. Most of the things that affect employee happiness do not cost companies a dime. According to a recent article in Inc. Magazine, the best way to make employees happy involves ongoing communication aimed at offering an heir of certainty about one's professional future. If engaged regularly and often on that level, employees will more likely than not be excited about coming into work every day. This is true because they've been shown a light at the end of the tunnel. They can appreciate what they're working toward while having a clear understanding of the path they need to follow in order to get there.
Creating excitement among employees is also free so long as a company's management team is capable of doing so. How does one create excitement? There isn't a definitive playbook to work from, but my suggestion is this. Find out what your employees are passionate about and play to those passions. If your team tends to thrive in a competitive atmosphere, give them something to compete for. Alternatively, if you throw an awesome end-of-the-year party, let employees be a part of the organization and planning process. I can go on and on offering endless examples of how to generate excitement inside the workplace, but at the end of the day, it boils down to knowing your staff as people and providing them with avenues that make their jobs both rewarding and worthwhile.
So… managers and business owners take note. We are in the early morning hours of a new age, and if employee happiness is not high on your priority list, you may be overlooking a very important and inexpensive tool designed to build a more successful business.
Thanks for taking the time, and I hope you enjoy the rest of STS Aviation Group's quarterly newsletter.
---
Careers Born from Passion Rest at the Heart of STS Aviation Group
By Rachel Hood — Manager, Technical Recruiting, STS Engineering Solutions &     Brian Boje — Senior Director of Recruiting, STS AeroStaff Services
Part One — Staffing (Aerospace Engineers)
When STS Aviation Group's Marketing Director asked me to write a newsletter article around the question, "What excites you about coming into work every day," I had to do some digging. I was interested in exploring this not only on an introspective level, I also deemed it wise to pose the same question to members of my team and see how they'd respond.
Before I get too far ahead of myself, let me circle back and start this story again from its true beginning; when I applied for a job with STS more than 11 years ago.
After learning that STS Aviation Group had an opening, I remember faxing my resume (yes, faxing resumes was very normal back then) and getting a phone call shortly thereafter requesting that I come in for a face-to-face interview. At the time, I had never been on an airplane and knew absolutely nothing about the aviation industry. To be honest, I didn't even know that staffing agencies existed, what per diem meant or anything else about recruitment process outsourcing. Needless to say, I was hired, and the normal period of awkwardness that accompanies the start of every new job quickly vanished on day two when something profoundly important happened. Let me explain…
On my second day working for STS, the other Recruiting Coordinator (that's the role I was hired for, and there were only two of us back then) I was working with called out sick. This left me on my own answering phone calls and trying to navigate the DOS-based system we used back in the day. I was almost to the point of tears shortly after the morning started, but everyone was so patient and understanding. They offered me advice, guidance and words of encouragement throughout the day and keep reminding me that while I was working alone, I was never really alone in my professional pursuits. It was then I knew that I wasn't just a part of strange yet lovable team; I was a member of a supportive / nurturing family and would be treated as such throughout my career.
Now as far as recruiting is concerned, you know that you've truly made a difference when someone says "thank you" for helping them find gainful employment. As a quick but albeit important sidebar, I recently had one of STS' Contract Engineers send me thank-you flowers as a sign of gratitude for helping him find work. That one small gesture quickly reminded me of how amazing it is to be able to offer someone a means to provide for themselves and their families.
I've worked with this particular contractor for almost five years now, but he's only been employed by STS sporadically throughout that time. Despite this fact, I always made an effort to stay in touch. After all, it's a relationship I built from nothing, and I'm proud of that. Why? Because cultivating relationships is what I live for, and I enjoy doing it. Now his gesture of thanks was above and beyond what most recruiters can expect, but it made me feel appreciated, and it also reminded me of why my work at STS Aviation Group matters.
The passion and enthusiasm we collectively possess as a team at STS Aviation Group has no doubt fueled our success. Together, we not only hit all of our staffing goals last year, we greatly exceeded them.
STS' Engineering Staffing Department is on an upward trend again right now, and I don't see that slowing down anytime soon. This fact, above all else, is what makes me happy and excited to come to work every day. I couldn't ask to be a part of a better organization, and I am grateful to my teammates (no, my family) for all the love and support they've shown.
It's not always common to hear people say that they're still excited to come to work after 11 years, but I am. I truly enjoy helping aerospace engineering professionals across the country find work because, to me, that's what this job is all about.
Part Two — Staffing (Touch Labor)
My name is Brian Boje, and I am the Senior Director of Recruiting for STS AeroStaff Services. A few weeks ago, I was asked to write a newsletter article focused on answering the question, "Why are you excited to come to work every day, and how does that excitement translate into success for you and your team?"
For brevity's sake, I could dive right into my response, but that would be disservice to those of you who don't know me. So in an effort to avoid isolating my readers, I think it's best to start with a story; or rather to tell you where my love for aviation spawned from and how that love led me to where I am today.
I became interested in aviation at a young age. I remember having vintage airplane wallpaper covering my bedroom as a kid, and I also remember going to airshows at Davis-Monthan Air Force Base in Tucson, Arizona (I grew up in Arizona). Reflecting on this a bit, I guess it would be fair for me to say that I was always fascinated by aircraft.
That love I felt for aviation as a child carried over into high school. In fact, I was a part of a class that combined science and math, and that very same class became the first high school in the country to make a working / functional wind tunnel. As a result of this, I was given the option to take a free flight-training course, and I even got to fly with a Senator (CNN did a thing about it… no big deal).
The passion for aviation that I once felt as a child soon blossomed into full-blown obsession. After high school, I wanted nothing more than to work in the aerospace industry, though at the time, I didn't know how / when I was going to make that happen.
A few months after graduation, I was offered a job in Marana, Arizona, as an aircraft cleaner. A year or so later, I was promoted to Aircraft Painter. I ended up taking my first contract position with STS in 1992 while working for CTAS in Waco, Texas. I have remained under the company's employ ever since.
I was hired as a recruiter by STS in 1996 when the company's home office was still in Nashville, Tennessee. I was promoted to Assistant Manager of Recruiting in 1999, and I am currently the Senior Director of Recruiting for all of STS AeroStaff Services.
Now that you know a little about me and my passion for the aviation industry, let me try and explain why I'm regularly excited to come to work every day. For me, placing qualified Aircraft Maintenance Technicians into rewarding careers all over the country makes the time and effort I expel worthwhile. I love providing good people with a means to be able to provide for themselves, and this stands as a great source of pride for both me and my team.
It's been said that "If you do what you love for a living, you'll never have to work a day in your life." I love what I do, and trust me, it still feels like work, but that doesn't mean that I don't embrace the grind and rise above the challenges that accompany my professional responsibilities.
At the end of the day, it boils down to this. I lead a team of professionals dedicated to helping aircraft maintenance technicians find work, and I can't imagine doing anything more rewarding with my professional life than that.
---