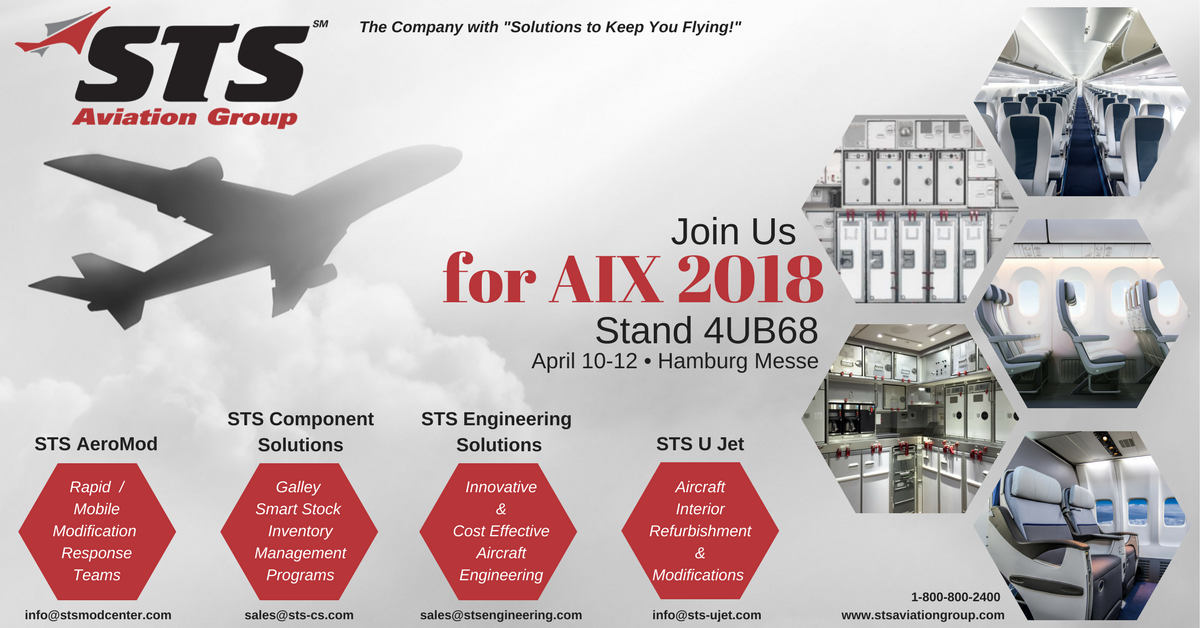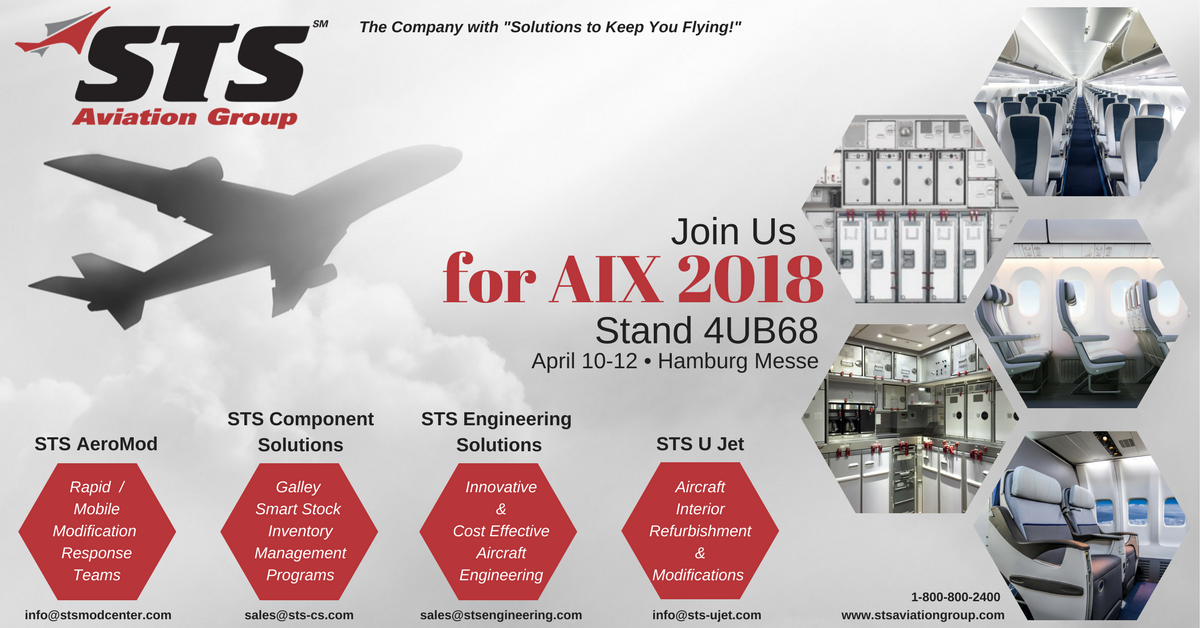 From April 10th – 12th, STS Aviation Group will be heading to Hamburg, Germany, where we are set to exhibit for the first time ever at the 2018 Aircraft Interiors Expo. Key members from STS Component Solutions, STS AeroMod, STS Engineering Solutions and STS U Jet will be on the ground, inside the Hamburg Messe Centre, and available to discuss all of your company's aircraft interior support requirements. If you plan on attending the event, come meet us at Stand 4UB68 and learn all about what makes us the company with "Solutions to Keep You Flying!"
Aircraft Interiors Expo is the world's leading event for airlines and supply chain organizations to source the latest innovations, technologies and products associated with cabin interiors and passenger comfort industries.  Over 550 exhibitors fill the halls of the Messe Centre and put their many products and services on display to the 16,000+ attendees from all over the world during the dynamic 3 day event. If you are involved in the purchase of cabin interiors, in-flight entertainment, connectivity and passenger services, this event is one you cannot miss!
During this conference you can visit the IFEC (In-Flight Entertainment and Connectivity) Zone where you can see, touch and test the latest and greatest IFEC products from over 100 exhibiting companies, The Airline Club Lounge offers VIPs free Wi-Fi access, meeting rooms for hire, meals and entry into the Industry Networking Party, taking place on Monday April 9th. At this event you can network with your peers of industry professionals all while having fun. The Industry Networking Party is being held from 6:00 pm – 9:30pm in the Upper Hall A4 of Hamburg Messe.
Members of STS Aviation Group, David Ikeda (Vice President – EMEA, STS Component Solutions), Kerry Obiala (Director of OEM Product Lines, STS Component Solutions), Craig Duncan (Regional Sales Director, STS Component Solutions), Spencer Necessary (Director of Safety, Security & Regulatory Compliance, Quality Assurance for STS Mod Center), Daniel Burgess (Sr. VP of Aeromod), Ethan Steele (Vice President of STS Engineering Solutions), Mark Robertson (President of STS U Jet) and Aidan O'Leary (Managing Director, STS U Jet) will all be available to meet with during the conference to discuss any of your company's aircraft interiors service and support requirements.
"As STS Aviation Group expands and grows into new markets, so does our attention to detail in the Aircraft Interiors and Programs we offer," said David Ikeda. "As an ultra-high profile touch point for customers, this aspect of our business is increasingly important as we provide innovative, proactive turn-key solutions to ensure our seat and galley repairs, spares availability and aircraft interiors exceed our airline customers' expectations."
STS consistently aspires to surpass industry 'standards' as we offer increased efficiency through local, custom tailored solutions to keep your aircraft interiors serviceable and more importantly, finished to a  high quality standard that allows our airlines to offer a premium product in an ultra-competitive environment."
This conference is sure to provide opportunities to develop new partnerships between key airlines, purchasers and aircraft interiors suppliers within the EMEA region and beyond.
Be sure to fly by Stand 4UB68 during the exhibition and meet the STS team.  We really look forward to seeing you all in Hamburg!