STS Aviation Group Flies to the 2018 Singapore Airshow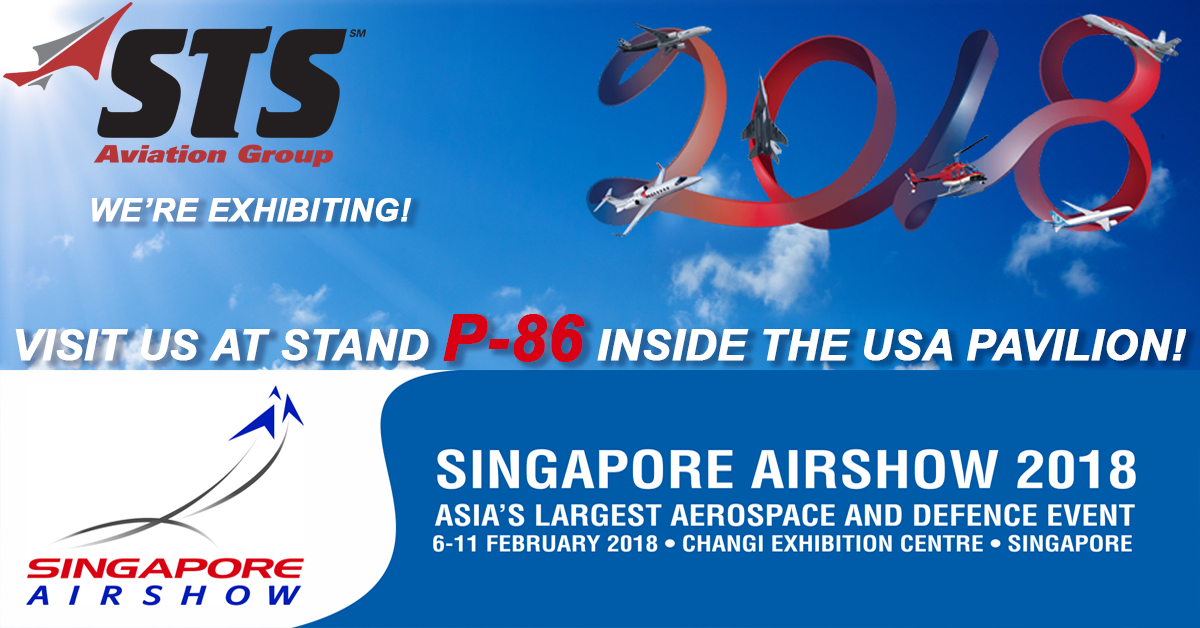 From February 6 – 9, STS Aviation Group will be heading east to exhibit at the 2018 Singapore Airshow. Key members from STS Component Solutions, STS Air-Pro, STS Mod Center and STS AeroMod will be on the ground and available to discuss all of your company's aircraft component, hose manufacturing, aircraft modification and aircraft repair requirements. If you plan on attending the event, come meet us at stand P-86 inside the USA Pavilion, and learn all about what makes us the company with "Solutions to Keep You Flying!"
Considered to be Asia's biggest aerospace and defense event, the multi-faceted Singapore Airshow is held every two years and brings together professionals across the globe from both the commercial and military aviation industries to build relationships and increase business within each sector. You can expect the latest and greatest state-of-the-art products and displays from over 1,000 companies set to exhibit, impressive static aircraft, new technologies showcases, and don't forget the exciting and adrenaline filled flying routines!
This will be STS' third time exhibiting at the Singapore Airshow, and we are excited to put our continually expanding product and service portfolio on display to the attendees of this monumental event. Since 2016, we have grown to an organization with nine divisions that offer comprehensive solutions across the aviation service value chain.
Members of STS Aviation Group, Jerome Kan (Director of Business Development – Asia Pacific), Theresa Liang (Regional Sales Director – Asia Pacific), Spencer Necessary (Director of Safety, Security & Regulatory Compliance) and Daniel Burgess (Sr. VP of AeroMod) will all be available in person at stand P-86 to discuss any of your company's inventory and service support requirements.
"The STS Mod Center and AeroMod teams are excited for the opportunity to build upon existing relationships as well as develop new and exciting partnerships with organizations in both the civil and military sectors of the Asia-Pacific market," says Spencer Necessary. "We are confident that our services provide great value to the already impressive offerings provided by STS Aviation Group."
Be sure to fly by stand P-86 inside the USA Pavilion and meet the STS team.  We really look forward to seeing you in Singapore!