STS Aviation Group Gears Up for MRO South Asia Summit!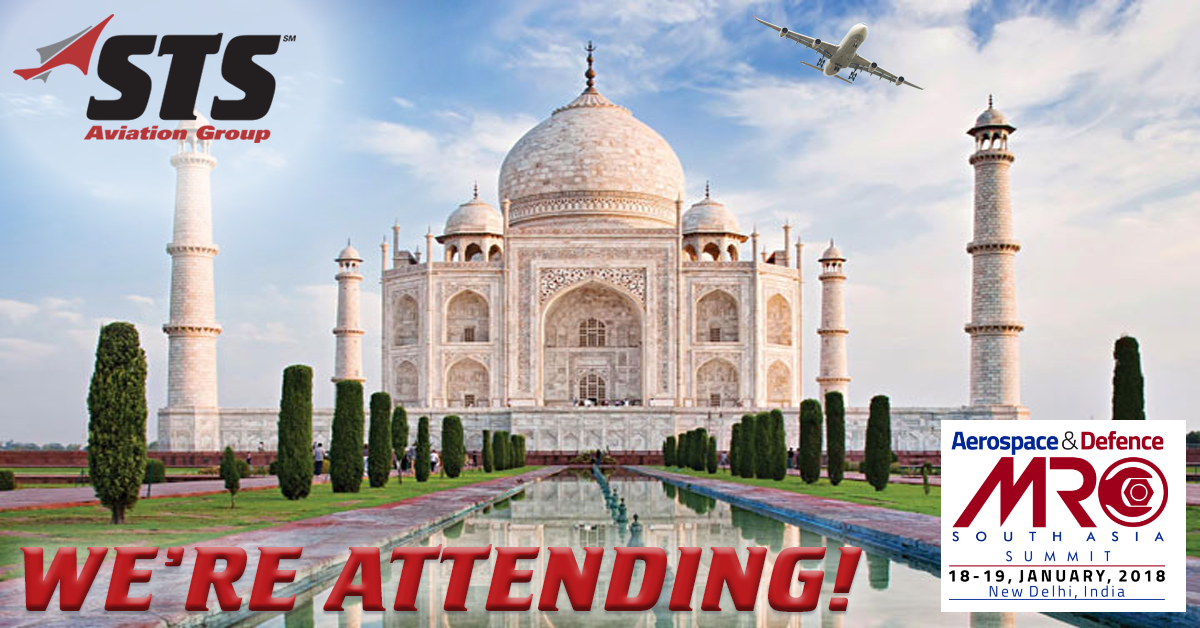 From January 18th – 19th, STS Aviation Group will be attending the Aerospace & Defense MRO South Asia Summit in New Delhi, India. This is STS' first time attending a conference in India and the team is excited to expand our service reach to the promising aviation markets within the region. If you plan on attending the event, come meet us on the ground, and learn all about what makes us the company with "Solutions to Keep You Flying!"  
According to the event's website, growing aircraft fleet size, strategic location, and a trained pool of highly-skilled engineers paired with lower labor costs position India to become a global MRO hub. Growth seen throughout "the aviation segment is resulting in an increased demand for MRO facilities in India. India at present has 400 commercial and 700 general aviation aircraft. 300 business jets, 300 small planes and 250 helicopters are expected to be added to the current fleet over the next five years."
This event is South Asia's first knowledge sharing summit on aerospace and defense MRO.  Attendees will gain huge opportunities to engage with policy makers, regulators, airlines, technology enhancers and many more key contacts from all segments of the business. This is set to be a must attend program and will surely excel growth of the region's MRO industry!
During the two-day, high-profile summit you can expect topics to be covered such as optimization of MRO logistics, digitalization of MRO,the role of big data, OEMs and parts availability in addition to a whole lot more!
Key members of STS Component Solutions, David Ikeda (Vice President of Sales – EMEA) and Ryan McComas (Account Manager) will be available in person to discuss all of your company's aircraft inventory requirements.
"The traffic and fleet growth in India is simply incredible," says David Ikeda. "STS Component Solutions has always supported its valued and trusted customers in this region, but as this exponential growth occurs, it is now time for STS to also increase its footprint and presence in this increasingly important and influential market. We very much want to be part of this phenomenal success and continue to ensure that our OEM distribution capability is best positioned to remain at the forefront of our customers' requirements."
Be sure to reach out and meet the STS team, and we really look forward to seeing you in India!