STS Aviation Group Set to Exhibit at the 2018 AIX Americas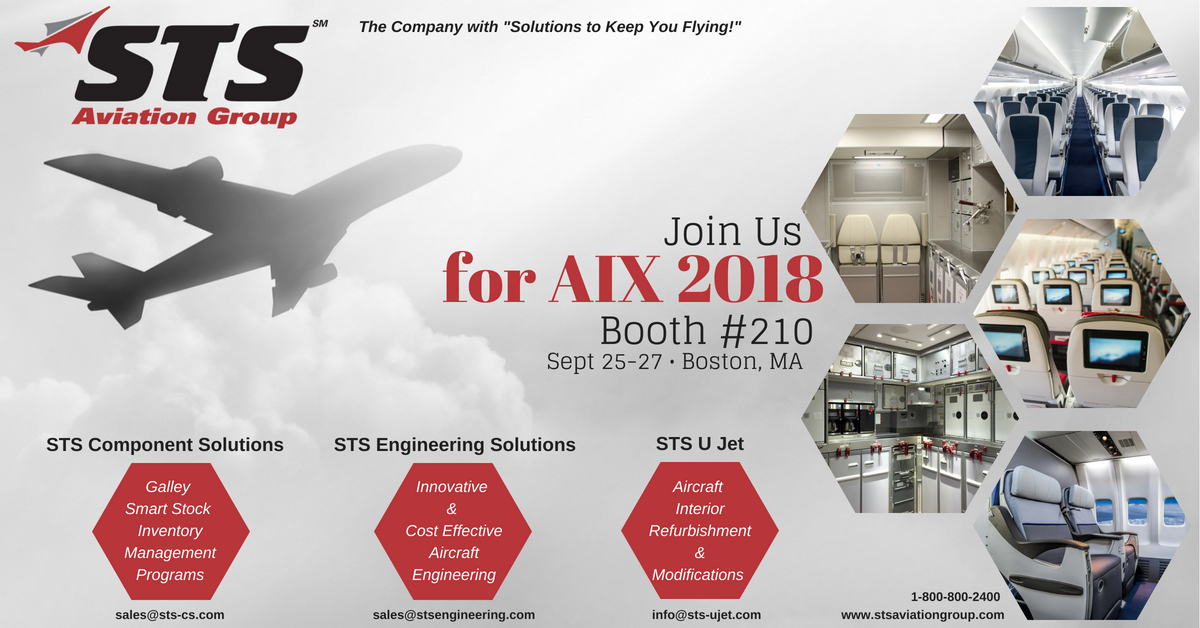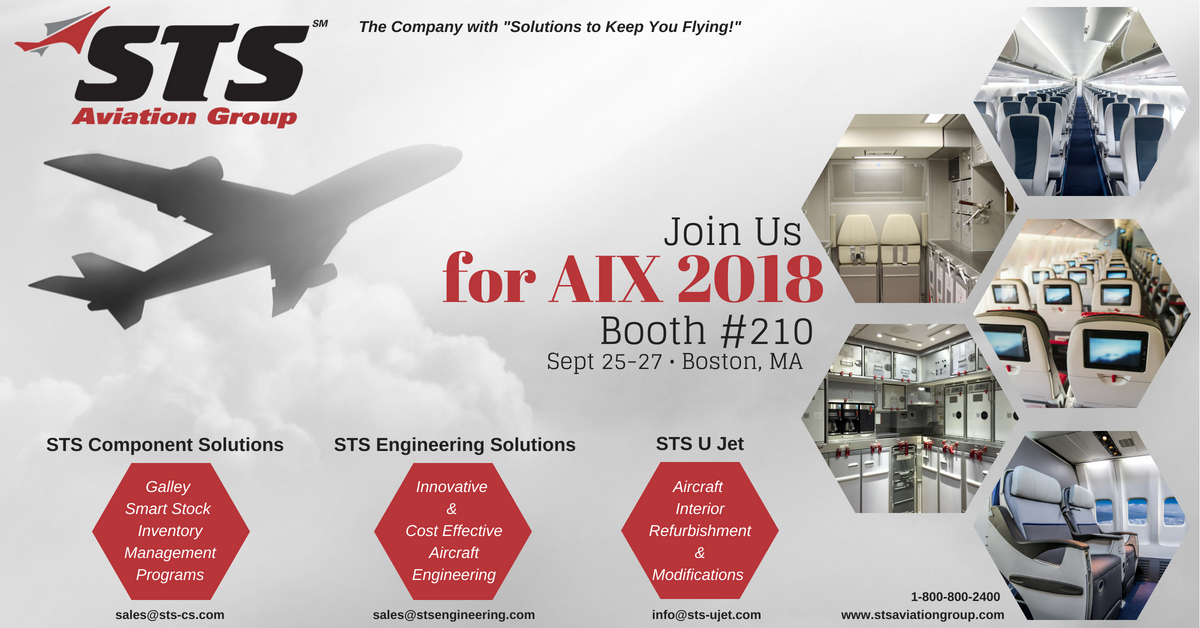 From September 25 – 27th, STS Aviation Group will be heading to Boston for the Aircraft Interiors Expo (AIX Americas). This will be STS' first time exhibiting at this conference since breaking into the interiors market with the addition of the Zodiac Galleys Spares OEM Product Line and aircraft seat refurbishment and modification division, STS UJet. Key members from STS Component Solutions and STS Engineering Solutions will be on site, inside the Boston Convention and Exhibition Center, and available to discuss all your company's aircraft component, interiors, seating and engineering support requirements. If you plan on attending the event, come visit the team at booth #210 and learn all about what makes us the company with "Solutions to Keep You Flying!"
The Aircraft Interiors Expo, co-located with APEX EXPO and IFSA Expo, is the season's premier event bringing together airlines and supply chain organizations to network, display, experience and source the interior industry's latest innovations. Event organizers state AIX Americas is the only global fall event dedicated solely to the passenger experience and cabin interiors industry. This year you can count on cutting-edge showcases like CabinSpace LIVE, seminars and experiences designed to get you closer to what's new in cabin and passenger innovation! This includes on-board 3D and virtual reality experiences, inflight double beds and family suites and exhibitor displays from over 550 leading aircraft interior innovators. More than sixteen thousand people, professionals from 60+ domestic and international airlines and more than six hundred key airline representatives from all over the world will be in attendance.
STS Aviation Group team members Tom Covella (Group President, STS Component Solutions), Pat Tyler (Vice President – Global Sales, STS Component Solutions), Tim Russo (Director – Customer Solutions & OEM Distribution, STS Component Solutions), Bob Heinson (OEM Product Line Manager, STS Component Solutions) and Ethan Steele (Vice President – Business Development & Sales, STS Engineering Solutions) will be available to meet with during the conference and discuss any of your company's aircraft component, interiors and engineering service and support requirements.
This dynamic conference is sure to provide many excellent opportunities to connect and network with key interiors industry professionals from around the world this fall. Be sure to fly by booth #210 to meet the STS team and learn more about the company's many value added services and support capabilities.  We look forward to seeing you all in Boston!