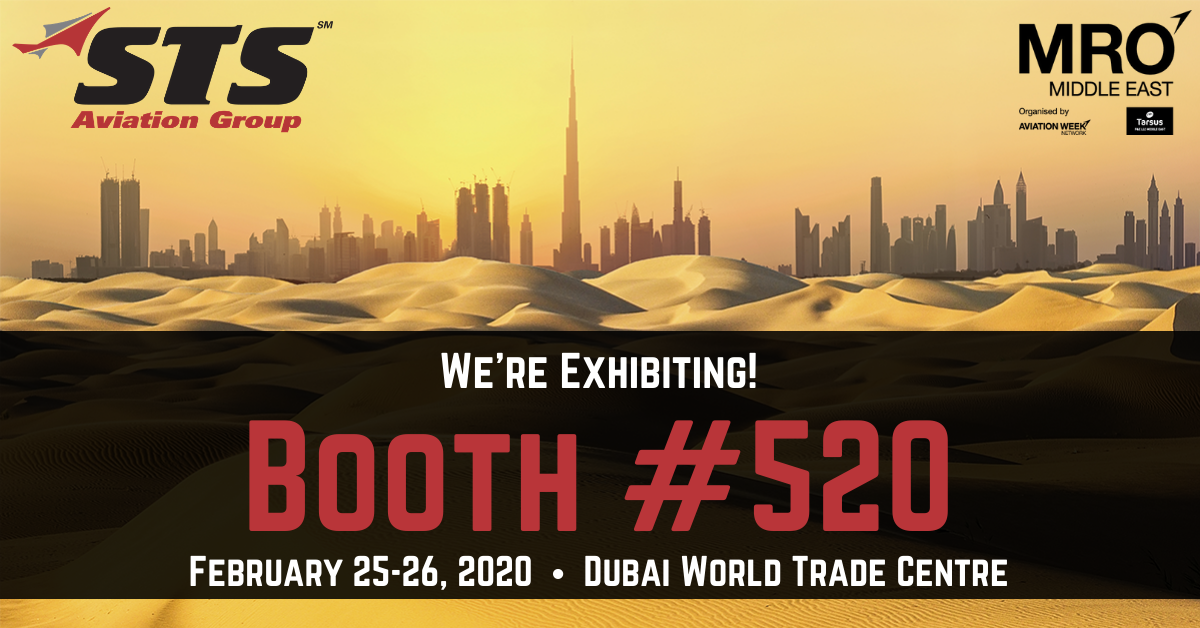 On February 25th – 26th, STS Aviation Group will be exhibiting at Booth 520 inside of the Dubai World Trade Centre.  You can find the company showcasing its full suite of OEM product lines and inventory solutions, hose manufacture & distribution capabilities and aircraft maintenance, engineering & modification services. If you plan to attend MRO Middle East, come meet the STS team, and learn all about what makes us the company with "Solutions to Keep You Flying!"
MRO Middle East is the region's leading event for the commercial aviation maintenance industry. Attendees gain the opportunity to discover the critical issues influencing the MRO industry today and to engage with 5,000+ colleagues, 330 exhibitors, and 540+ airlines all representing 83 different countries.
STS is excited to once again exhibit at this prestigious conference within the Gulf region of the Middle East and put our many unique products and service offerings on display. Most recently, STS Aviation Services now operates three state-of-the-art aircraft hangars, two interior modification facilities and more than 50 active line maintenance stations around the world. These facilities, and the expert personnel that operate each, fuel our company's drive to seamlessly blend a growing portfolio of MRO services to deliver all-encompassing aircraft maintenance, engineering and modification solutions to the global aviation industry.
Representatives of STS, David Ikeda, Bon Marcelo, Brian Wilson, Daniel Burgess, Ryan Winfield and Ian Bartholomew will all be onsite and available to discuss the company's service and support capabilities.
If you are involved in any aspect of aviation maintenance, repair, and overhaul then you don't' want to miss MRO Middle East. Remember to fly by Booth 520 and meet the STS team. We look forward to seeing you in Dubai!