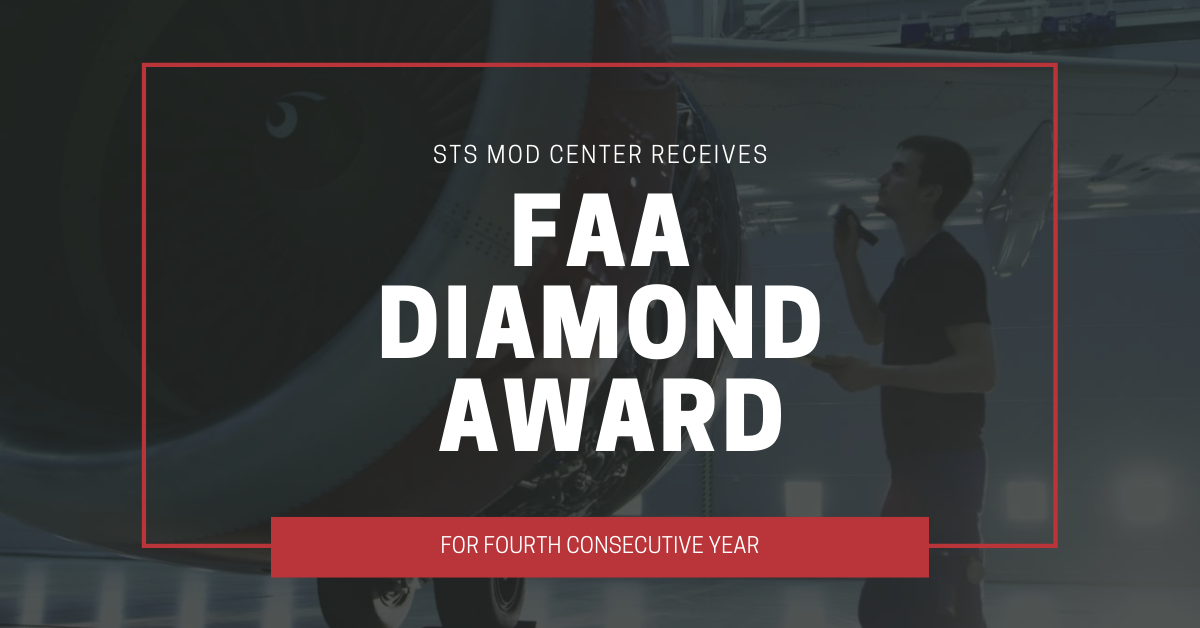 Melbourne, Fla., March 19, 2021 – STS Mod Center, a global leader in aircraft maintenance and modification services, receives the FAA Diamond Award from the U.S. Department of Transportation and the Federal Aviation Administration for its continued commitment to aircraft maintenance training and safety. This is the fourth year in a row STS Mod Center has received the award.
"The promotion of safety through regular and ongoing training is central to our company's success," says Mark Smith, Group President of STS Mod Center. "To receive this award means 100% participation from our entire staff, and that's hundreds of people rallying around the company's core cultural values and training methods year in and year out."
In order to be considered for the award, STS Mod Center enrolled itself into the FAA FAAST program; a program designed to promote safer skies through the ongoing training and education of Aircraft Maintenance Technicians. To receive the award, every touch labor specialist employed by STS Mod Center had to successfully complete the year-long program with ratings levels that exceeded the Federal Aviation Administration's justifiably high standards.
"We fix, troubleshoot and modify aircraft for a living," says David MacKinnon, Director of Quality and Compliance for STS Mod Center "That's a responsibility and a privilege we take seriously. This award reflects that, and I'm proud of our team for rallying together and working hard to bring this award home for the fourth consecutive year. This accomplishment means a lot to us as an organization, but knowing that safety rests at the heart of everything we do means a great deal more to our customers and the people who depend on us to fly safely."
If you would like to learn more about STS Mod Center or its parent company, STS Aviation Group, please visit: https://www.stsaviationgroup.com/
About STS Mod Center:
STS Mod Center operates out of a state-of-the-art hangar facility in Melbourne, Florida. The company is an MRO leader in avionics and structural aircraft repair and modification services. From major / minor aircraft repairs and modifications to complete in-flight connectivity packages, STS Mod Center delivers exceptional results for clients around the world.
Media Contact:
Bryan Shaw
Director of Marketing at STS Technical Group
1-800-800-2400 ext. 8521
bryan.shaw@stsaviationgroup.com