STS Aviation Group Gears Up for AP&M Europe in Frankfurt!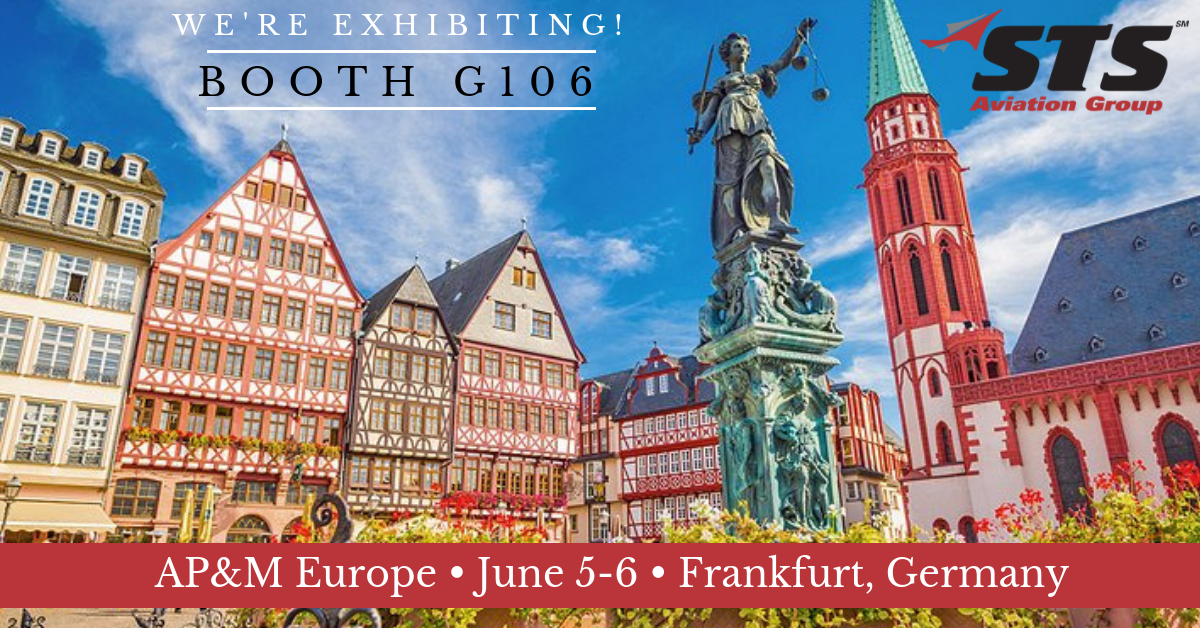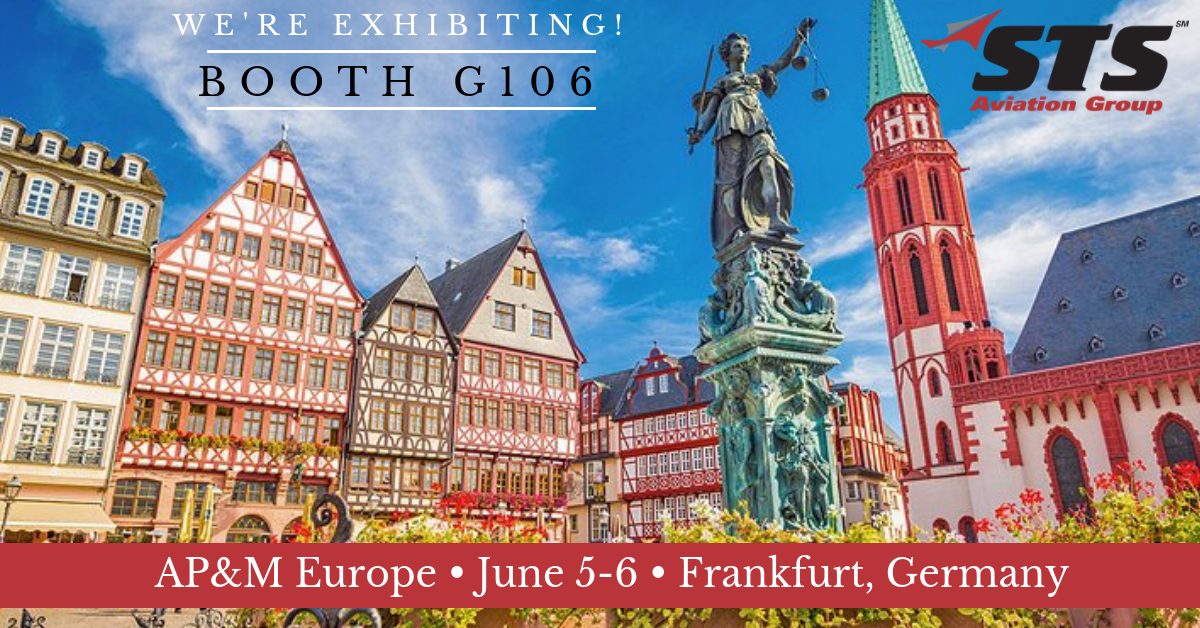 From June 5 – 6, STS Aviation Group will be heading to Frankfurt, Germany where the company is set to exhibit at the 2019 AP&M Europe presented by Aviation Week. Key members from STS Component Solutions, STS Air-Pro and STS U Jet will be on the ground inside the Messe Frankfurt Exhibition Centre. The team will be available to discuss all of your company's aircraft component, OEM distribution, hose & interiors support requirements. If you plan on attending the event, come visit the team at Booth G106 and learn all about what makes STS the company with "Solutions to Keep You Flying!"
Since 2003, AP&M Europe has been commercial aviation's leading aftermarket exhibition. This is the venue where the entire airline supply chain gathers under one roof, with over 200 industry suppliers display their products and services to over 4,000 aviation professionals in attendance. This event is unique in that it is free for all trade professionals to attend. You get unlimited access to suppliers offering the latest and greatest aftermarket products, services and technologies for two complete days.
During this conference you can expect grand displays from all of the exhibitors and unbeatable networking opportunities such as the VIP Welcome Reception! Meet the Buyers is the AP&M's signature networking event which provides a platform for exhibitors to meet with buyers from airlines, MROs, OEMs and leasing companies, face to face, in pre-arranged 10 minute meeting slots. Event reports show that 80% of buyers did business as a direct result of their meetings!
Members of STS Aviation Group, David Ikeda (Vice President- EMEA, STS Component Solutions), Craig Duncan (Regional Sales Director- EMEA, STS Component Solutions) Kerry Obiala (Director, OEM Product Lines, STS Component Solutions), Robert Heinson (OEM Product Line Manager, STS Component Solutions) Tyrone Barnsley (Sr. Sales Manager, STS Component Solutions), Derick Butler(Sales Manager – Commercial Engines, STS Component Solutions), Taylor Salisbury (Marketing & Events Manager, STS Component Solutions), Chris James (Director of Sales, STS Air-Pro), Brian Wilson (Sr. Account Manager – EMEA, STS Air-Pro), Mark Robertson (President, STS UJet) and Timo Gumbert (Director of Business Development, STS UJet) will all be available to meet with during the conference to discuss any of your company's aircraft component, OEM distribution, hose & interiors service and support requirements.
This event is sure to provide many excellent opportunities for airlines, MROs, OEM providers and vendors to connect and create new partnerships, and enhance current business relations within the EMEA region and across the globe.
Be sure to fly by Booth G106 during the expo to meet the STS team. We can't wait to see you all in Frankfurt!