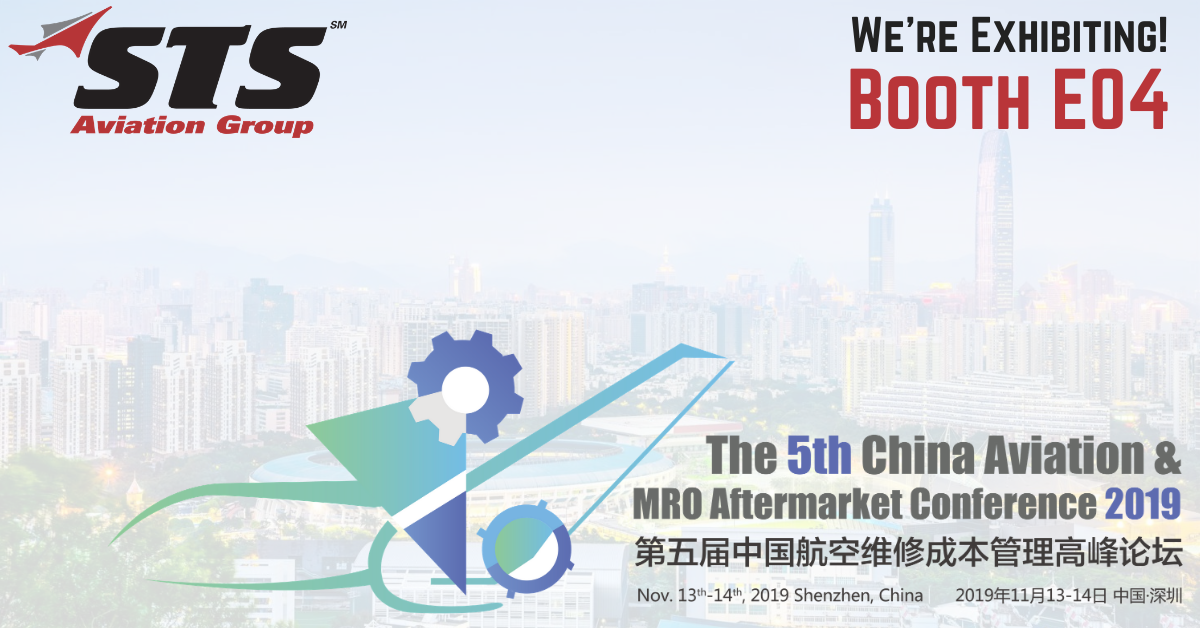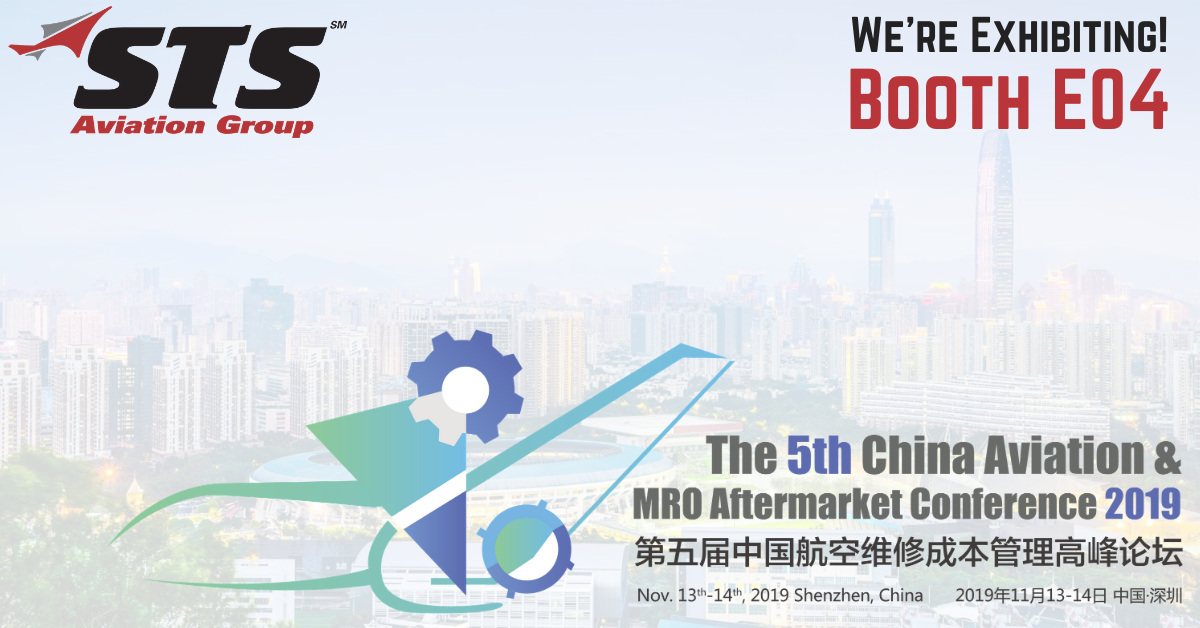 From November 13 – 14th, STS Aviation Group will be heading to Shenzhen, China for the 5th China Aviation & MRO Aftermarket Conference. STS is excited to once again exhibit and share with attendees the news of the company's latest acquisitions, OEM distribution product lines, new office locations and much more. Key members from STS Component Solutions will be on site, inside the Courtyard by Marriott Shenzhen Northwest, and available to discuss all your company's aircraft component, maintenance, engineering and modification support requirements. If you plan to attend the event, come visit STS at Booth E04 and learn all about what makes us the company with "Solutions to Keep You Flying!"
The 5th China Aviation & MRO Aftermarket Conference focuses on China aviation & MRO aftermarket maintenance cost management. According to the event web page, the rapid development of civil aviation industry, aircraft maintenance demand of airlines also shows a substantial and continuous rise, which creates a great opportunity for Chinese aviation maintenance industry. Data shows that the aircraft will usher in the overhaul cycle in 6-10 years, so the market capacity has achieved rapid growth in recent years. As the only domestic platform focusing on aviation maintenance cost management, the summit will focus on "improving fleet operation efficiency and optimizing life cycle costs". The event will bring together delegates from domestic and foreign airlines, OEMs, MROs, leasing companies and technology suppliers, to discuss the current industry trends in depth, share best practices, new technologies and products.
During the conference, you can hear speakers from Air France KLM, Airbus, Lufthansa Technik, Spirit Airlines and many more. You can view the complete agenda here.
STS Aviation Group team members Tom Covella (Group President, STS Component Solutions), Jerome Kan (VP of Business Development- Asia Pacific, STS Component Solutions), and Theresa Liang (Account Manager, STS Component Solutions) will be available to meet with during the conference and discuss any of your company's aircraft component, maintenance, engineering and modification support requirements.
This dynamic and growing conference is sure to provide many valuable opportunities to connect and network with key industry professionals within the Asia-Pacific region and around the world. Be sure to fly by Booth E04, meet the STS team and learn more about the company's many value added services and support capabilities.  We look forward to seeing you all in Shenzhen!