STS Aviation Group Takes Off for the 2019 Aircraft Interiors Expo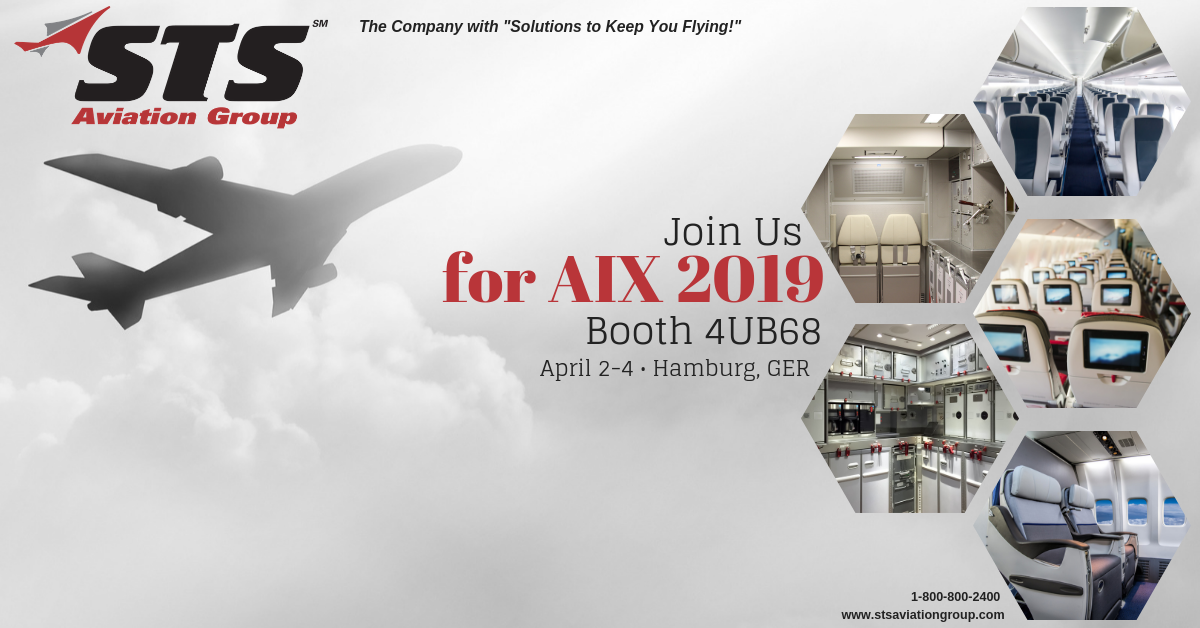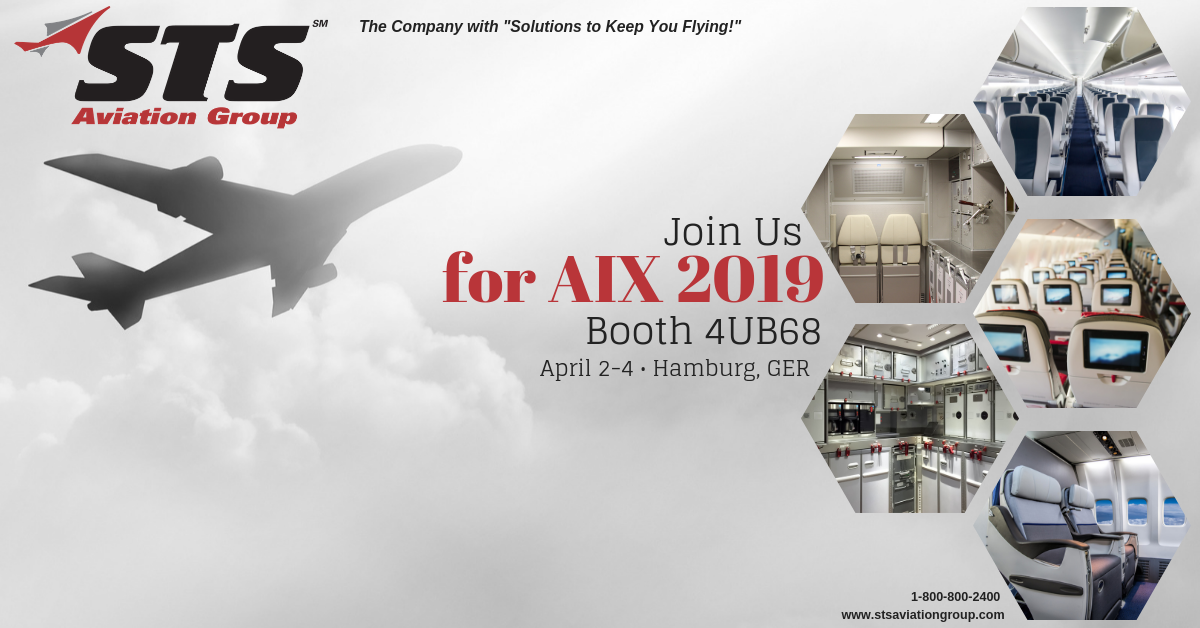 From April 2nd – 4th, STS Aviation Group will be heading to Hamburg, Germany, where we are set to exhibit for the second time at the 2019 Aircraft Interiors Expo. Key members from STS Component Solutions, STS Engineering Solutions and STS UJet will be on the ground, inside the Hamburg Messe Centre, and available to discuss all of your company's aircraft inventory, engineering services and interiors support requirements. If you plan on attending the event, come meet us at Stand 4UB68 and learn all about what makes us the company with "Solutions to Keep You Flying!"
Aircraft Interiors Expo is the world's leading event for airlines and supply chain organizations to source the latest innovations, technologies and products associated with cabin interiors and passenger comfort industries.  Over 550 exhibitors will fill the halls of the Messe Centre and put their products and services on display to the 16,000+ attendees from all over the world during this dynamic 3 day event. If you are involved in the purchase of cabin interiors, in-flight entertainment, connectivity and passenger services, this event is one you cannot miss!
During the conference you can visit the IFEC (In-Flight Entertainment and Connectivity) Zone where you can see, touch and test the latest and greatest IFEC products from over 100 exhibiting companies, The Airline Club Lounge offers VIPs free Wi-Fi access, meeting rooms for hire, meals and entry into the Industry Networking Party, taking place on Monday April 1st, from 6:00-9:30 pm. Here you can network with your peers of industry professionals all while having fun!
Members of STS Aviation Group, Tom Covella (Group President, STS Component Solutions), David Ikeda (Vice President – EMEA, STS Component Solutions), Tim Russo (Director of Customer Solutions & OEM Distribution, STS Component Solutions), Craig Duncan (Regional Sales Director, STS Component Solutions), Omur Keskin (Regional Sales Director, STS Component Solutions), Ethan Steele (Vice President of STS Engineering Solutions), Mark Robertson (President of STS UJet), Aidan O'Leary (Managing Director, STS U Jet) and Cliodhna O'Brien (Material and Logistics Coordinator, STS UJet) will all be available to meet with during the conference to discuss any of your company's aircraft inventory, engineering and interiors service and support requirements.
The 2019 Aircraft Interiors Expo is sure to provide opportunities to develop new partnerships between airlines, purchasers and aircraft interiors suppliers within the EMEA region and beyond.
Be sure to fly by Stand 4UB68 during the exhibition and meet the STS team.  We really look forward to seeing you all in Hamburg!