STS Aviation Group Set to Exhibit at the 4th China Aviation and MRO Aftermarket Conference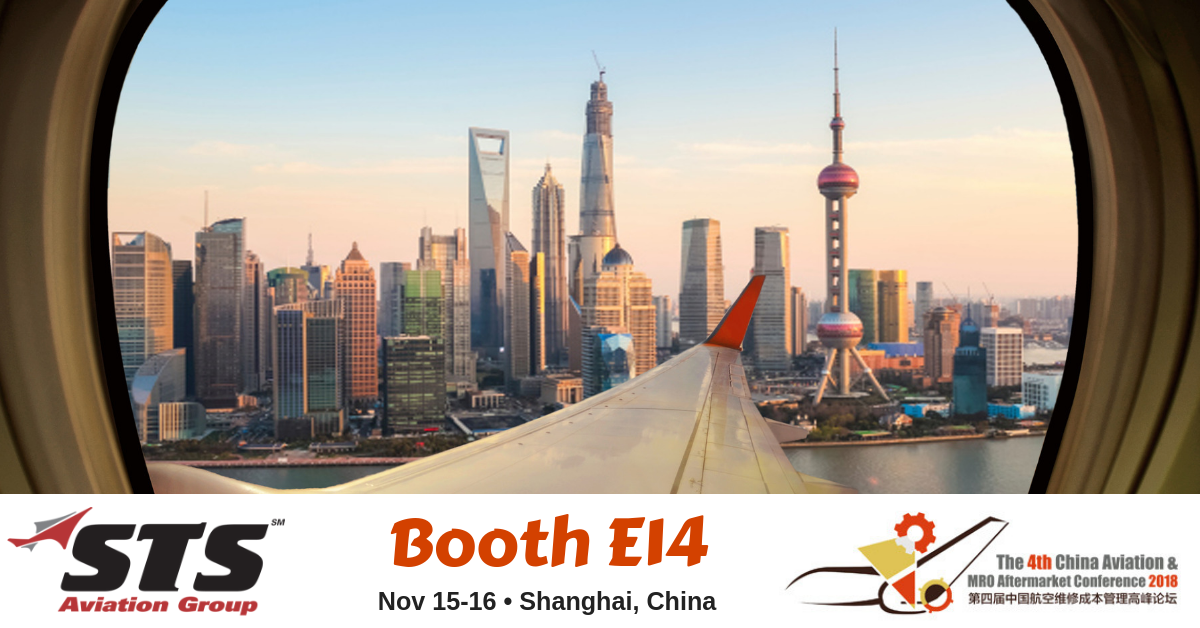 From November 15 – 16th, STS Aviation Group will be in Shanghai, China for the 4th China Aviation & MRO Aftermarket Conference.
The entire STS Aviation Group team is excited to once again exhibit and share with attendees the news of the addition of the Zodiac Galleys Spares, Magee Plastics and Curtiss Wright OEM Product Lines.
Since last year's show, STS Aviation Group has also added an aircraft seat refurbishment and modification division, STS UJet. Key members from STS Component Solutions and STS Air-Pro will be on site inside The Shanghai Hongqiao Airport Hotel and available to discuss all your company's aircraft component, interiors, seating and engineering support requirements. If you plan on attending the event, come visit the team at Booth E14 and learn all about what makes us the company with "Solutions to Keep You Flying!"
The 4th China Aviation & MRO Aftermarket Conference focuses on China aviation & MRO aftermarket maintenance cost management. This event will offer valuable industry trends and business development opportunities to attending companies.
Figures indicate that during the past 10 years the average growth rate of China's civil aviation fleets reaches at 10.95%. Last year, Chinese civil airlines introduced 362 aircraft and the total number of aircraft is now approaching 3,000. At the end of 2017, the number of Chinese general aviation aircraft totaled 2,127. The event's organizers state that hub airlines, low-cost airlines, regional airlines, general aviation airlines have all entered a comprehensively prosperous and booming period. During the conference you can hear speakers from EasyJet, Turkish, China Cargo, Air China airlines and many more. Agenda topics also include Aircraft Maintenance Planning and Control, Inventory Cost Management, Best Practices for Reducing Material Costs, to name a few. You can view the complete agenda here.
STS Aviation Group team members Tom Covella (Group President, STS Component Solutions), Pat Tyler (Vice President – Global Sales, STS Component Solutions), Jerome Kan (VP of Business Development- Asia Pacific, STS Component Solutions), Nina Lin (Account Manager, STS Air-Pro) and Theresa Liang (Account Manager, STS Component Solutions) will be available to meet with during the conference and discuss any of your company's aircraft/engine component, interiors and aircraft hose manufacture/ distribution service and support requirements.
During the conference on  Friday November 16th, President of STS Component Solutions, Tom Covella will be speaking on the panel discussion topic Best Practices for Reducing Material Costs. If you are attending, be sure to check out this valuable and informative discussion being held from 11:35am-12:35pm. Covella will be joined by Peter Berg, Head of Supply Chain Management of SAS, Kevin Kuo, Senior Manager, Engineering & Maintenance Dept. of Tiger Air and Wu Jie, Deputy General Manager, Maintenance & Engineering Dept. of Huaxia Airlines. Moderator of the Panel Discussion is Rahul Shah, Senior Vice President, Strategic Growth and Business Development, Asia Pacific, Middle East and Africa of AAR.
This dynamic and growing conference is sure to provide many valuable opportunities to connect and network with key industry professionals within the Asia-Pacific region and around the world. Be sure to fly by Booth E14 to meet the STS team and learn more about the company's many value added services and support capabilities.  We look forward to seeing you all in Shanghai!