STS Aviation Group Takes Off for the 2018 Avionics Maintenance Conference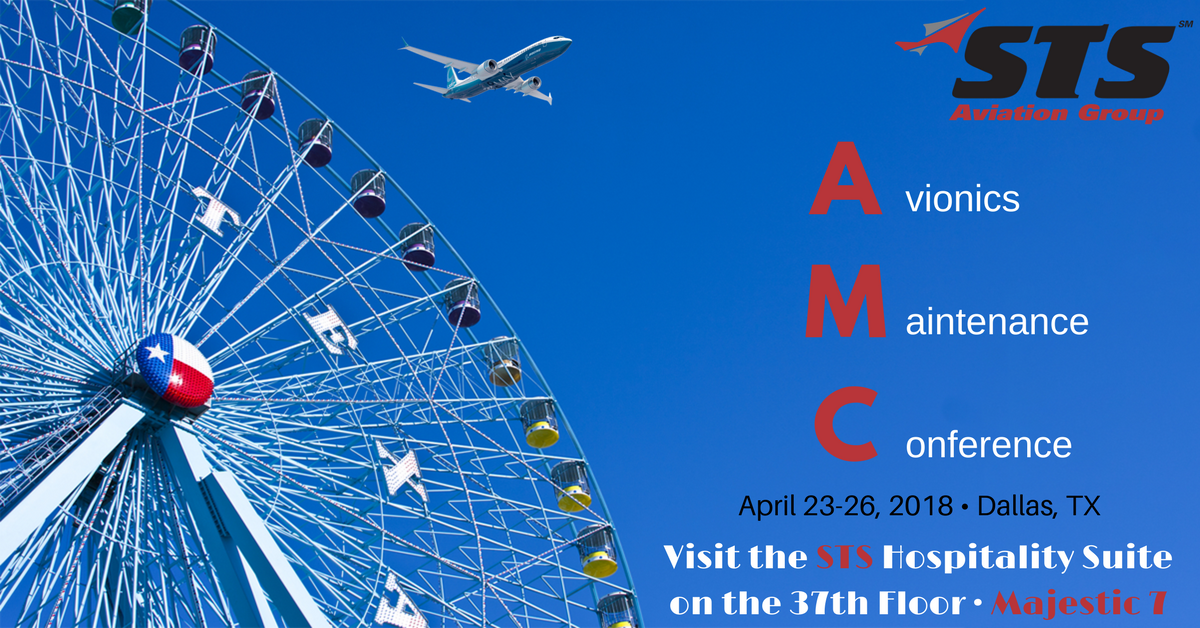 From April 23rd – 26th, STS Aviation Group will be heading west to Dallas, TX where the company is set to exhibit and host networking events at the 2018 Avionics Maintenance Conference (AMC). Key members from STS Component Solutions will be on the ground, inside of the Sheraton Dallas Hotel, and available to discuss all of your company's aircraft inventory support and programs requirements. If you plan on attending the event, be sure to fly by our suite on the 37th floor inside the Majestic 7 Ballroom, and learn all about what makes us the company with "Solutions to Keep You Flying!"
Year after year, maintenance industry professionals gather from all around the globe in one place for two great conferences. The Airlines Electronic Engineering Committee (AEEC) General Session and Avionics Maintenance Conference (AMC) are jointly held while providing a platform to discuss and explore common issues and advancements within the industry. Opportunities for discussion take place during technical symposiums, working group activities, and fun casual networking events within the hotel's many hospitality suites for three consecutive event nights. You can view the full event schedule by clicking here.
The objectives of AMC, as stated on the organization's webpage, are to promote reliability and to reduce operating and life cycle costs of air transport avionics by improving maintenance and support techniques through the exchange of technical information. The benefits of AMC for airlines are long-term success in economic management and operation of commercial aircraft.
Members of STS Component Solutions, Pat Tyler (Vice President, Global Sales & Business Development), Tim Russo (Director, Customer Solutions & OEM Distribution), Kerry Obiala (Director, OEM Product Lines, Product Development), Gabrielle Daniele (OEM Product Line Representative, Product Development), Shawn Kalinowski (Program Manager), Josh Walker (Sr. Manager, Contracts & Programs), Taylor Salisbury (Marketing Coordinator) and Erik Hlavaty (Regional Sales Director, North America) will all be available to meet with during the conference and networking events, to discuss any of your company's aircraft inventory management and programs support requirements.
Within the STS Hospitality Suite (co-hosted with OEM partners Acme Aerospace, Aerosonic Corp., Avionic Instruments and MarathonNorco Aerospace) you can expect outstanding entertainment options, great food and even better company among our team and your peers! On Monday night, The Killer Dueling Pianos are set to rock the house! On Tuesday evening, STS will be set inside the AAI Exhibits & Manufacturer's Reception from 6:00pm – 8:00pm, showcasing our unique OEM Distribution portfolio and "Smart Stock" Inventory Program offerings. Following the exhibition, the party continues back inside the STS suite with music from Dallas' best country cover band, The Big City Outlaws! And to wrap up the conference on Wednesday night, STS is excited to welcome members of the 2018 Dallas Cowboys Cheerleading Team to our suite for photos and autographs.
This conference is sure to provide opportunities for key airlines, purchasers, OEMs and suppliers, to collaborate and make strides towards future advancements in systems and component design, reliability, and cost effectiveness.
Be sure to fly by and meet the STS team at our hospitality suite inside the Sheraton Hotel, on the 37th floor in the Majestic 7 Ballroom.  We really look forward to seeing you all in Dallas!