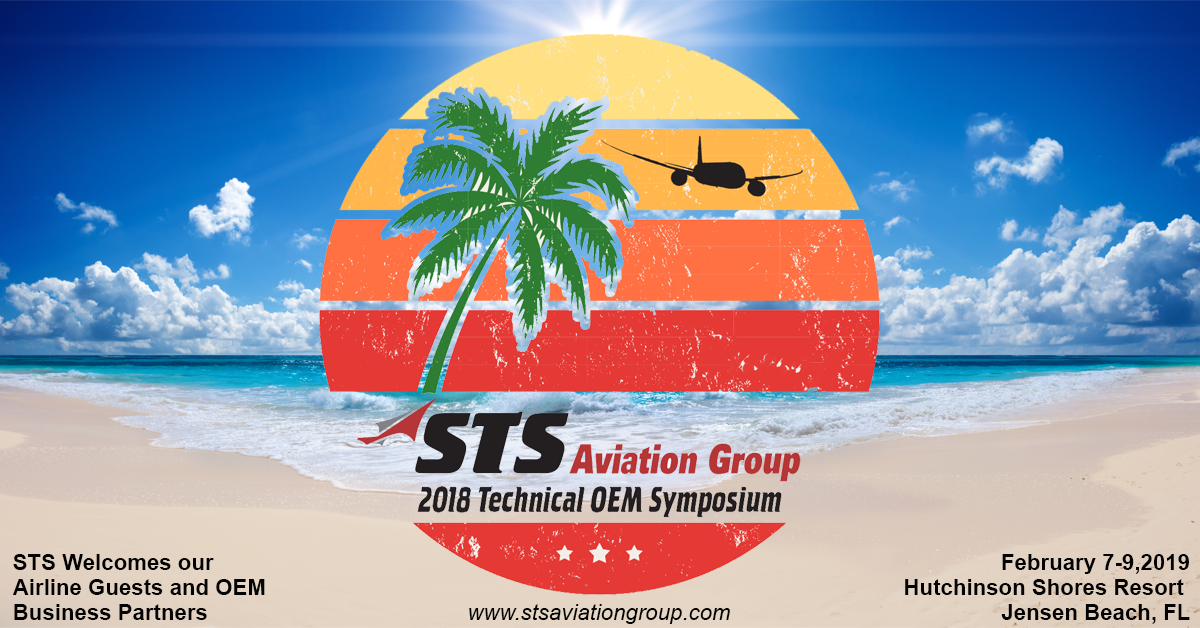 STS Aviation Group is extremely excited to once again host airline guests and OEM partners in sunny Jensen Beach, Florida, for its annual Technical OEM Symposium.
On February 7 – 9th, attendees from more than 10 different airlines and OEM partners will gather at the brand new Hutchinson Shores Resort & Spa in Jensen Beach for three days full of networking events, informative presentations highlighting the STS Component Solutions and STS Air-Pro OEM portfolio, break away meetings, team building activities and so much more!
Airline guests set to attend this year are from Aruba, Azur, COPA, Delta, Envoy, Etihad, GOL, JetBlue, KLM, Southwest, and Sun Express.
Starting on Wednesday February 7th, you can expect mini-meeting sessions followed by a welcome dinner and networking. Thursday morning, from 8:00 am until 5:00pm, OEMs will present their products and services while also creating a platform for open discussions and idea sharing to help benefit both the sales team and airlines that may have important input to help solve pains plaguing the industry.
This event is unique in that it allows interaction between integral parts of the industry all in one place to share ideas and work towards solutions to better serve customers. On Friday, the event wraps up with exciting team building activities and another chance for everyone to interact in a more casual and fun setting.
Guests can expect to either fish, golf, or simply enjoy the beauty of the treasure coast from the ocean front resort. We will end on a high note at the farewell dinner where the catch of day will be served to everyone who is able to attend.
"The STS Technical OEM Symposium provides our customers and business partners the opportunity to build upon our long standing relationships while sharing new information on OEM products, reliability improvements, data analytics and supply chain programs," says Tim Russo, Director of Customer Solutions and OEM Distribution at STS Component Solutions. "As STS Component Solutions continues to grow we are focused on providing unparalleled service and value to our customers, which is the focus of the annual event."
This year is set to be the biggest yet! We are thrilled that so many of our airline and OEM friends and partners are able to travel to Jensen Beach for this special event that we are happy to host each year.
Stay tuned to our social channels for more from the 2018 Technical OEM Symposium. This year is going to be one to remember!