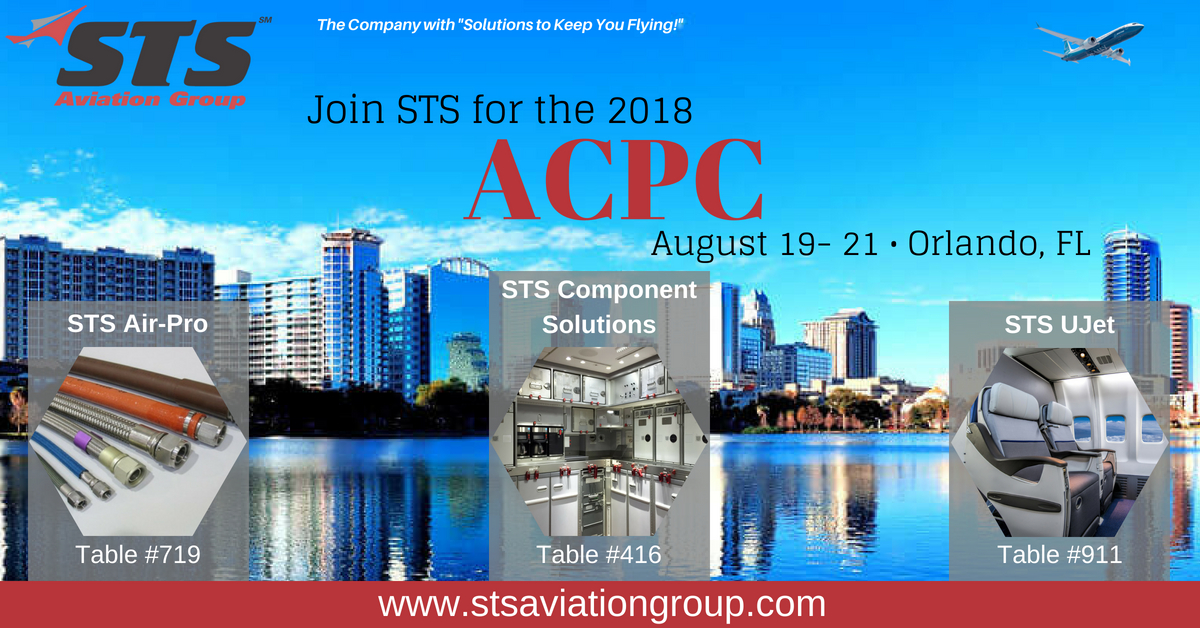 From August 19 – 21st, STS Aviation Group will be in Orlando, Florida for the 62nd Air Carriers Purchasing Conference (ACPC). Key members from STS Component Solutions, STS Air-Pro and STS UJet will be on site at the Ritz-Carlton & JW Marriott Grande Lakes Hotels and available to discuss all your company's aircraft component, hose distribution & manufacture, and aircraft interiors support requirements. If you plan on attending the event, come visit the team during the Aviation Networking Forum, and learn all about what makes us the company with "Solutions to Keep You Flying!"
The ACPC conference attracts more than 700 suppliers annually. Airline attendees and suppliers alike can meet in one place and discuss key issues, develop relationships and network in the many social settings the conference provides. This year at the exciting three day event you can expect the ACPC Golf Tournament at the Ritz-Carlton Golf Club, informative social media sessions in the Ops Center, a poolside afternoon at the Splash Pad, the Airline Round Table meetings, an Aviation Networking Forum, and much more!
Key members of STS Aviation Group, Tom Covella (Group President, STS Component Solutions), Luis Garcia (VP, STS Air-Pro), Mark Robertson (President, STS UJet) and many more will be available to meet with during the conference. Simply click one of the names above to reach out via LinkedIn. During the Aviation Networking Forum, you can also find STS team members at the following tables:
STS Component Solutions – Table #416
STS Air-Pro – Table #719
STS UJet – Table #911
The ACPC presents unlimited networking opportunities for airlines and suppliers to build new relationships, expand on current ones and collaborate to improve processes and technologies throughout the industry. This event is definitely the "most productive aviation conference worldwide!"
Be sure to fly by the Aviation Networking Forum inside the Coquina Ballroom of the JW Marriott during the conference and meet the STS team.  We really look forward to seeing you all in Orlando!