Young Women in Aviation Day: Inspiring the Future in Partnership with Air Canada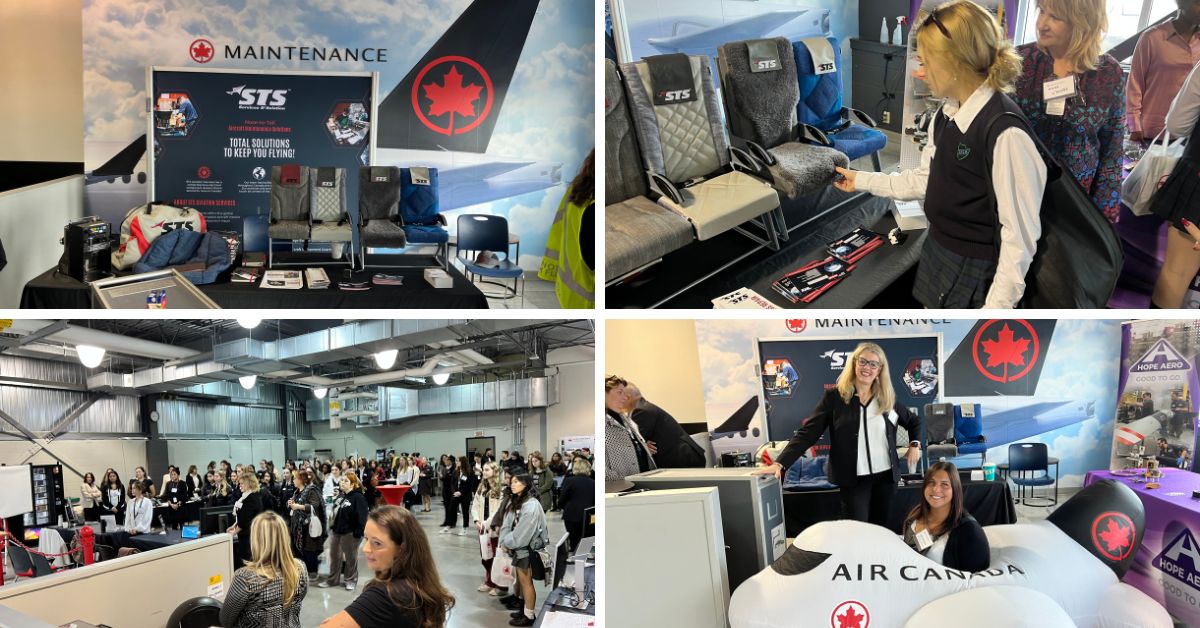 At STS Aviation Services in Montreal, we take pride in our long-standing partnership with Air Canada. Together, we are committed to fostering the next generation of aviation professionals. One significant initiative in this endeavor is celebrating "Young Women in Aviation Day," an amazing annual event sponsored by Air Canada; an event we are always proud to participate in. This special day was celebrated on November 2nd, and it serves as an annual reminder of the importance of diversity and inclusion in the aviation industry.
Young Women in Aviation Day is more than just an event; it's a movement. It was initiated as a way to inspire young women to pursue careers in the skilled trades and technologies industry. We believe that every young person, regardless of gender, should have the opportunity to explore the exciting and fulfilling careers available in the world of aviation.
At the same time as the hackathon was taking place at Air Canada's Montreal headquarters, the airline was also hosting its Young Women in Aviation event, an annual event which returned this year after pausing during the pandemic. This event enabled students over the age of 15 who are deciding what they will study in the future to learn more about multidisciplinary careers in aviation.
Air Canada welcomed students throughout the day, and they were able to hear directly from Air Canada's leaders. They were also treated to an aircraft tour and visit to the Air Canada museum. In addition, attendees visited booths set up by different teams at Air Canada and their partners. The goal was to provide the students in attendance with insights into what makes a career in aviation so exciting and showcase career paths where women are currently underrepresented.
"This event holds great significance as we aim to inspire young women to embark on educational and career paths in the skilled trades and technologies industry. Facilitating connections between students and seasoned professionals from different sectors of this industry, enabling them to share their experiences and offer guidance, is essential in nurturing the next generation," expressed Lena Waters, Sr. Vice President of STS Aviation Services in Canada.
The partnership between Air Canada and STS Aviation Services is built on the shared belief that a diverse and inclusive workforce is essential for the success and innovation of the aviation industry. We are proud to be part of initiatives like Young Women in Aviation Day that empower the next generation of female leaders in aviation.
In the words of Amelia Earhart, the famous aviation pioneer, "The most effective way to do it is to do it." Young Women in Aviation Day is about empowering young women to take to the skies, pursue their dreams, and know that there are no limits to what they can achieve in the aviation industry.
In the years to come, we look forward to continuing our collaboration with Air Canada in supporting Young Women in Aviation Day and similar initiatives that promote diversity and inclusion within the aviation sector. Together, we are inspiring the future of aviation… one young woman at a time.