STS Aviation Group Lands at 150 on Florida Trend's Annual List Showcasing the Largest Private Companies in Florida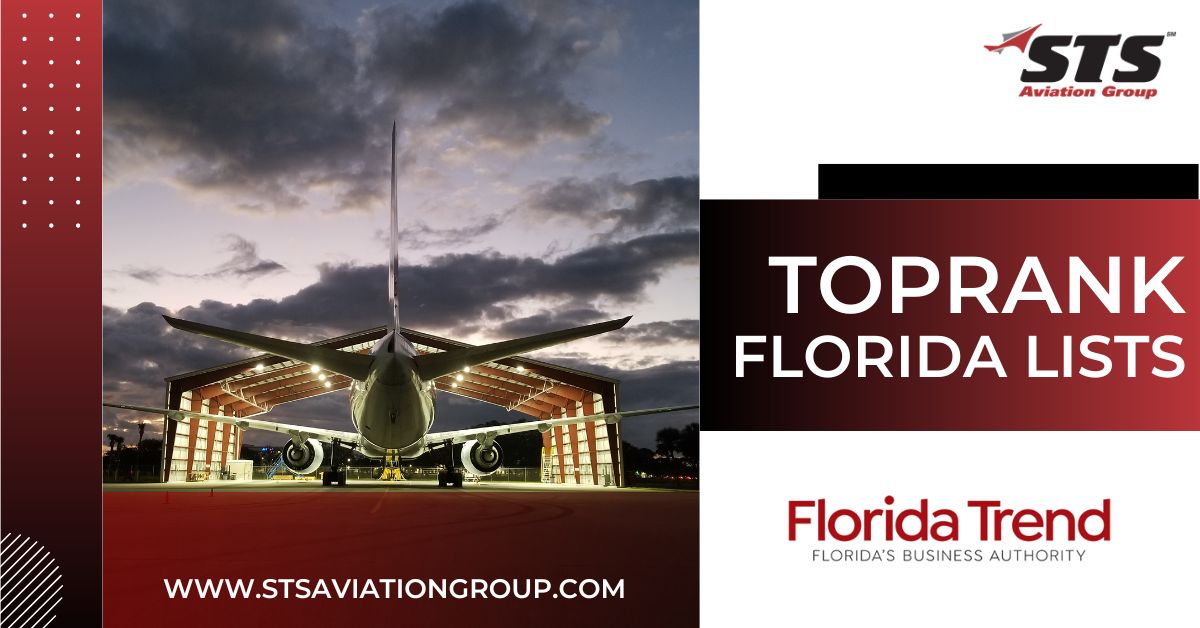 JENSEN BEACH, Fla., July 15, 2022 — STS Aviation Group (STS), a global leader in aircraft maintenance, repair and overhaul (MRO) solutions, is named by Florida Trend Magazine as one of the largest, privately owned companies in the Sunshine State. In fact, STS' 2022 rank finds the organization sitting at position 150 on Florida Trend's yearly list that is determined by a company's annual reported revenue.
"We have come a long way since 1986 when our company was founded in Reno, Nevada," states PJ Anson, CEO of STS Aviation Group. "Back then, we had just a handful of employees, and now we have more than 2,300 full-time team members and a contingent workforce of more than 1,500. That's quite an accomplishment. Today, we find ourselves as one of the premiere MRO providers in the world, and that kind of success is attributed to the dedication of our teammates who consistently go above and beyond for STS' clients and business partners. I am extremely honored to be leading this team, and I am tremendously excited to see what the next few decades have in store for STS Aviation Group."
Throughout the state of Florida, STS Aviation Group employs people at its headquarter offices in Jensen Beach, it's state-of-the-art aircraft maintenance facility in Melbourne, it's aircraft parts distribution and sales center in Palm City as well as its hose manufacturing facility in Miramar. In total, STS Aviation Group's Florida-based workforce exceeds 1,000 people with new career opportunities opening daily as the company continues its accelerated growth strategy.
For those who might be interested in joining the STS Aviation Group family, you can check out a list of current openings on the company's online jobs board: www.ststechnicaljobs.com
If you would like to learn more about STS Aviation Group and the aircraft MRO solutions it provides to global airlines, lessors, military organizations and OEMs, please visit: www.stsaviationgroup.com.
About STS Aviation Group:
Founded in 1986, STS Aviation Group is a one-stop service provider to the global aviation industry. With headquarters in Jensen Beach, Florida and offices around the world, STS delivers nose-to-tail solutions with unmatched results and expertise. To learn more about STS Aviation Group and what makes it the company with "Solutions to Keep You Flying," please visit www.stsaviationgroup.com or call 1-800-800-2400.
For More information, contact:
Bryan Shaw
Director of Marketing
1-800-800-2400 ext. 8521
bryan.shaw@stsaviationgroup.com