STS Aviation Group Purchases State-of-the-Art Aircraft Hangar Facility in Florida; Launches STS Mod Center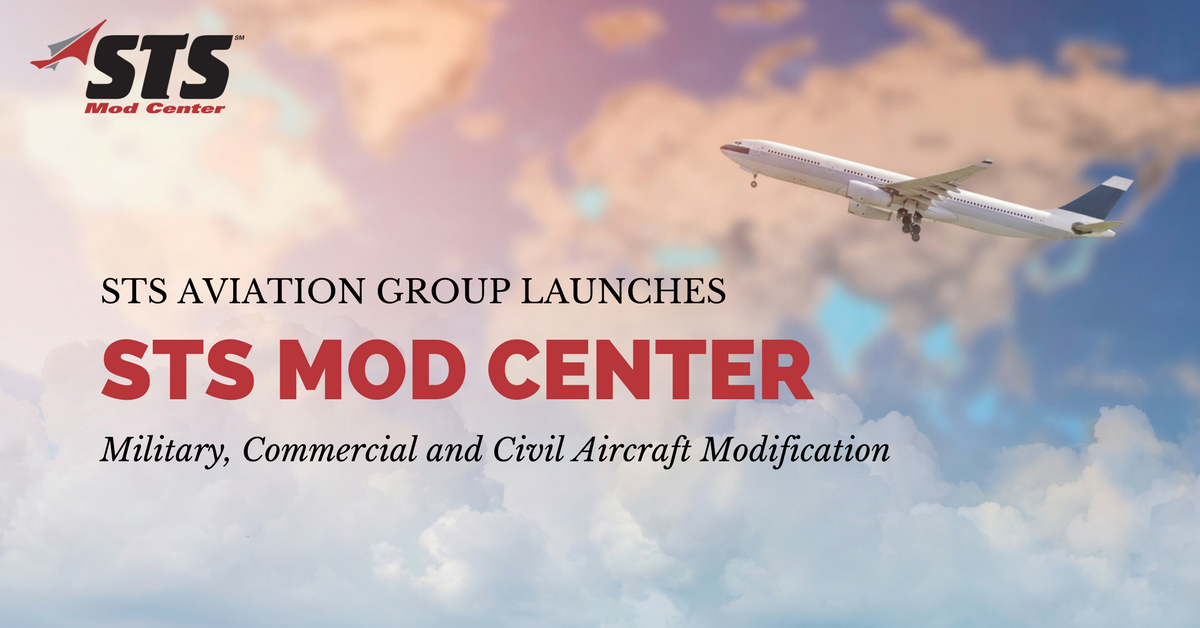 Melbourne, Fla., September 5, 2017 – STS Aviation Group continues its recent expansion by acquiring the assets of AeroMod International to launch a brand new business known as STS Mod Center.
STS Mod Center is fully operational and based out of a 114,500 sq. ft., state-of-the-art hangar facility in Melbourne, Florida. The company employs a highly-skilled team of on-site, and mobile, aircraft maintenance technicians and engineers that can expertly accommodate all military, commercial and civil aircraft modification requirements.
"STS Aviation Group is continuing its high-growth strategy, and with the addition of this new hangar facility, we now have the ability to perform a variety of avionics and structural aircraft modification services for airline, leasing companies and OEM customers both at our new Melbourne facility or on-site at their location," states PJ Anson, CEO of STS Aviation Group. "We already have certifications in place, and the team is up, running and ready for action."
STS Mod Center has secured the following national and international certifications:
FAA 145
EASA 145
ANAC 145
AS 9110B
AS 9100
While STS Mod Center will specifically focus on avionics and structural modifications, what makes the company unique is its ability to provide lower costs and quicker turn times.
"As an extension of STS Aviation Group, STS Mod Center has immediate access to the resources provided by all other divisions of STS," says Anson. "For example, if parts are required for a specific project, we can look to STS Component Solutions. If additional recruiting resources are needed, we can turn to the staffing experts at STS AeroStaff Services. It's all connected, and that connectivity makes a world of difference when it comes to saving our clients time and money."
Some of the work STS Mod Center will focus on includes:
IFE Upgrades
Cabin Retro-Fits
Connectivity and Wireless IFE Installations
GPS and Satcom Installations
ADS-B Out
In-Seat Power Installations
Lighting Upgrades
Winglet Modifications
"STS Mod Center is not limited to the services highlighted above. In fact, we're prepared to handle all of your company's aircraft modification requirements safely, efficiently and at a very competitive price," says Mark Smith, Group President of STS Aviation Group. "Safety has always been a main priority of ours at STS Aviation Group, and that is why our team will continue to undergo rigorous training to help ensure the very best product we can produce. We can do it better, and faster, than anyone else in the industry. We look forward to driving that fact home to airlines, leasing companies and OEMs in the coming years."
To learn more about STS Aviation Group and the all-inclusive aviation industry solutions it provides, please visit www.stsaviationgroup.com.
About STS Aviation Group:
STS Aviation Group is a diversified company that specializes in support services for the aerospace industry through its nine divisions, STS AeroStaff Services, STS Engineering Solutions, STS Line Maintenance, STS Component Solutions, STS Air-Pro, STS Repair and Modification, STS Mod Center, STS AeroMod and STS NDT. From staffing your team so it can get the project done right and at an affordable price, to providing certified aircraft and engine components so you can get off the ground and back in the sky, STS continues to be a one-stop servicing center for all of your company's aviation staffing, aircraft engineering, line maintenance, component sale / distribution, hose manufacturing, aircraft repair and modification requirements. To learn more about what makes STS the company with "Solutions to Keep You Flying," please visit www.stsaviationgroup.com or call at 1-800-800-2400.
###
Media Contact: 
Bryan Shaw
Director of Marketing at STS Aviation Group
1-800-800-2400 ext. 8521
bryan.shaw@stsaviationgroup.com