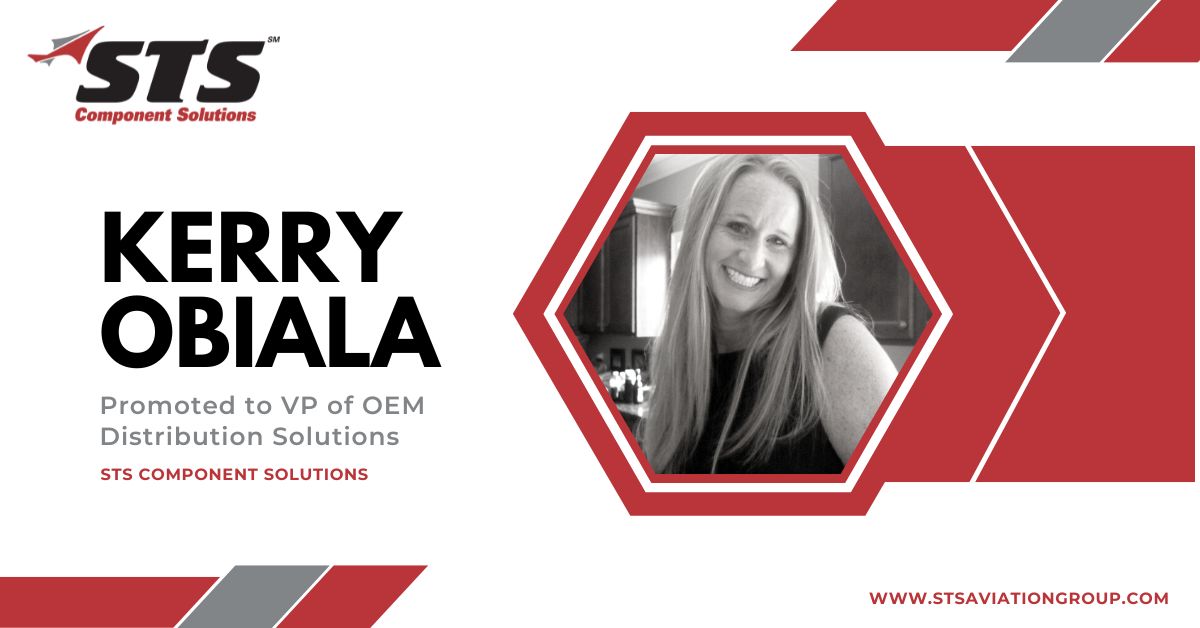 PALM CITY, Fla., January 18, 2023 — STS Component Solutions (STS), a division of STS Aviation Group and a leading aircraft parts provider to the global aerospace industry, promotes Kerry Obiala to Vice President of OEM Distribution Solutions. Obiala will lead a team of Product Line Managers who collectively manage more than 25 global OEM partnerships.
"Kerry was the clear and obvious choice to lead our OEM distribution team," says Tim Russo, President of STS Component Solutions. "She has been with the company for more than 14 years and played an instrumental part in our organization's growth and success during that time. Moving forward, it is Kerry's knowledge, leadership, and unrelenting passion for the industry that will guide the future of our OEM distribution team to unprecedented heights in 2023 and beyond."
Obiala graduated from the University of Alabama with a dual major in Criminal Justice and Political Science. She started her career at STS Component Solutions shortly after the company was founded in 2008. Over the past 14 years, Obiala has helped grow the business into a global supply chain leader while being directly responsible for expanding the team's OEM portfolio from a handful of partnerships to where it is today.
"I am excited about this opportunity, our growth trajectory and the growing responsibility of supporting our team members and OEM partners as we continue to expand," states Obiala.
If you would like to learn more about STS Component Solutions, STS Aviation Group and the end-to-end aircraft maintenance solutions they provide, please visit: https://www.stsaviationgroup.com/
About STS Component Solutions:
On-time delivery of certified aircraft parts lies at STS Component Solutions' core. The company specialize in materials management, OEM distribution and supply chain solutions. They have a knack for locating hard-to-find aircraft / engine parts and stock a rotable inventory in strategic warehouses around the world.
To learn more about STS Component Solutions and what makes it the company with "Total Solutions to Keep You Flying," please visit www.stsaviationgroup.com or call 1-888-777-2960.
For More information, contact:
Bryan Shaw
Director of Marketing
1-800-800-2400 ext. 8521
bryan.shaw@stsaviationgroup.com