STS Aviation Group Wins Best Places to Work in Martin County Award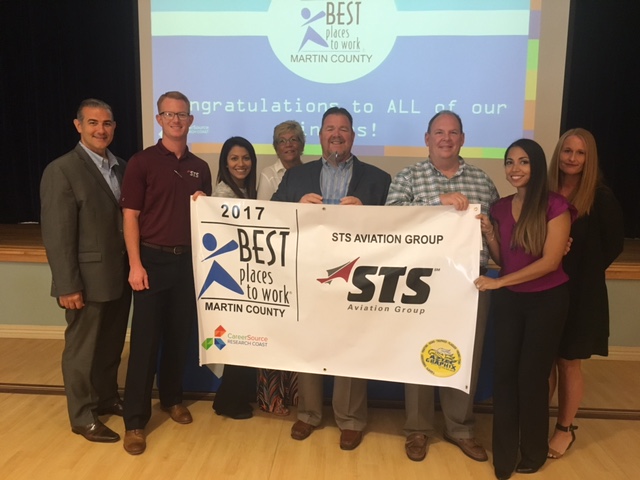 For the sixth time in nine years, STS Aviation Group wins the Best Places to Work in Martin County award.
"It is an honor to be recognized as one of the Best Places to Work in Martin County for 2017," says Jeff Devine, STS Aviation Group's Director of Human Resources. "This is STS Aviation Group's sixth time winning this award, and we are proud to be a leading employer in the county and a part of making our region one of the best places to live, work and raise our families."
Many of the things that helped STS stand out this year were culture-focused. For example, the Martin County Business Development Board recognized STS Aviation Group's casual, fun and friendly workplace atmosphere. The board also highlighted STS' employee involvement in community outreach efforts. Additional items of distinction were mentioned by the board and include STS Aviation Group's comprehensive employee training program, the generous amount of paid time off the company grants as well as its highly-competitive benefits packages given to every full-time employee.
STS Aviation Group takes this honor very seriously, and the company cannot thank its staff enough for their daily contributions, enthusiasm and drive.
Without the best employees in Martin County, STS Aviation Group would be just another company.