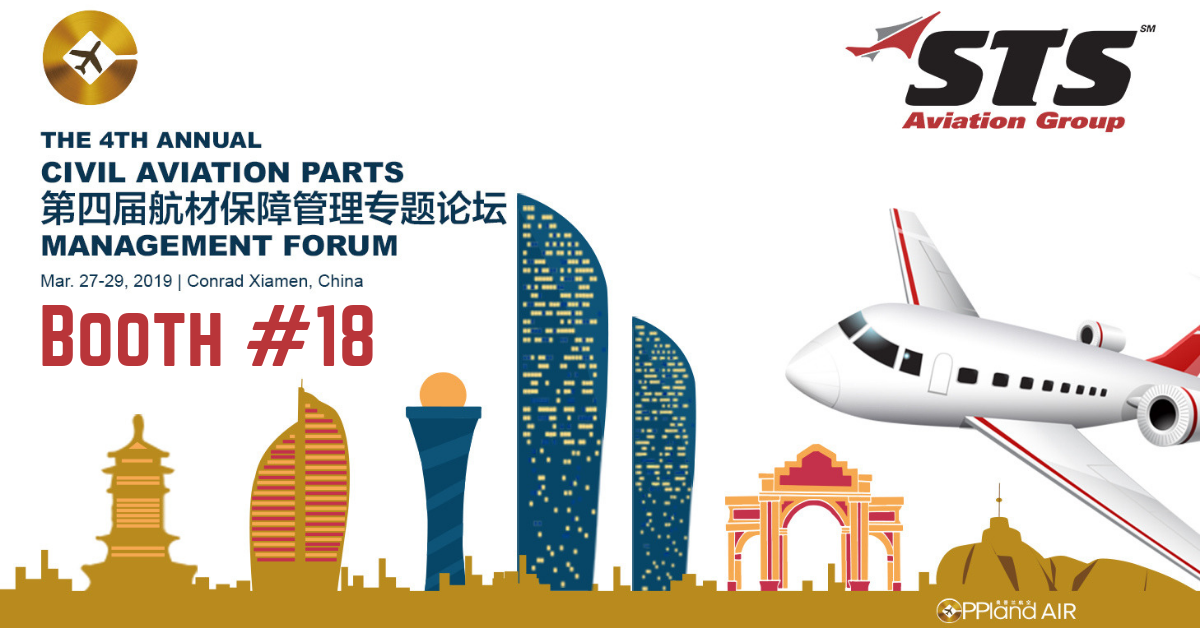 From March 27th – 29th, STS Aviation Group will be heading to Xiamen, China where the company is set to exhibit for the first time ever at the 4th Annual Civil Aviation Parts Management Forum! Key members from STS Component Solutions and STS Air-Pro will be on the ground, inside the Conrad Xiamen Hotel, and available to discuss all of your company's aircraft & engine inventory, OEM distribution and aerospace hose manufacture/distribution service and support requirements. If you plan on attending the event, come meet us at Booth 18 and learn all about what makes us the company with "Solutions to Keep You Flying!"
Xiamen is a main air hub in East China with flights to over 90 domestic and international destinations. Among airports in China, Xiamen ranked the top 11 for passenger traffic, top 8 for cargo traffic and top 10 for air traffic. It can handle 27 million passengers annually. The airport is also the headquarters hub of Xiamen Airlines.
Conference organizers say this forum has become the largest gathering of aviation parts management professionals in Asia. Last year's event welcomed 300 participants from China and overseas and 50 speakers contributed their thoughts and knowledge at different panels.
This year you can expect to meet with parts planning & procurement executives from over 60 airlines and MROs within Asia. Attendees will also gain first-hand knowledge of the region's fleet plans and parts demands, learn best practices of parts support strategies and supply chain management, and hear the latest analyses of aviation aftermarket and spare parts management dynamics. There will also be a site tour of the HAECO Xiamen facility, a reception party, a various panels and sessions with topics such as Spare Parts Market Updates – development and trends, Parts Pooling – theory and reality, and many more! You can view the event's full agenda here.
Members of STS Aviation Group, Tom Covella (Group President, STS Component Solutions), Jerome Kan ( Director of Business Development – ASP, STS Component Solutions), Theresa Liang (Regional Sales Director, STS Component Solutions), Nina Lin (Sr. Account Manager, STS Air-Pro) and Rachel Rao (Account Manager, STS Component Solutions) will all be available to meet with during the conference to discuss any of your company's aircraft & engine inventory and aerospace hose manufacture / distribution service and support requirements.
This conference is sure to provide opportunities to sustain existing business relationships and develop new partnerships with Chinese and Asian airlines and MROs.
Be sure to fly by Booth 18 during the exhibition and meet the STS team.  We really look forward to seeing you all in Xiamen!